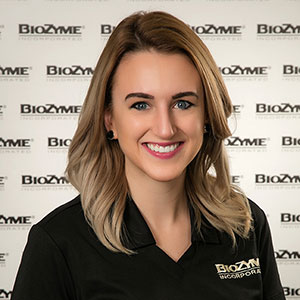 Caitlin Tye
Caitlin Tye is seventh generation agriculturalist from Illinois. She is a graduate of West Texas A&M University with a bachelor's degree in Agricultural Communications. She competed in horse judging at both the junior and senior college levels. Prior to joining the BioZyme® Team, she coordinated the social media presence for Deere & Company. She also served as an Admissions Counselor at New Mexico State University in Portales, as the Events Manager at the Curry County Events Center in Clovis, N.M., and as the Communications Director for the Missouri Cattlemen's Association.
Caitlin was raised in a rich farming community, and has always had deep appreciation for agriculture. While involved with the Miss America Organization, her platform was Ag education for youth and teaching the next generation to appreciate what farmers do. She also has a passion for the equine industry, and got her first pony at the age of nine. She currently owns a 5-year-old performance mare that is in a training program, and enjoys spending as much time as she can with her horse. Caitlin is a member of the American Quarter Horse Association.
Caitlin and her husband, Dylan, a staff sergeant in the United States Air Force stationed at Little Rock Air Force Base, live at Cabot, Ark.