For years, dairies across the world have trusted Amaferm® in their rations to help with increased intake, digestibility and nutrient absorption so operations could naturally maximize production and keep their cows' health top of mind.
The research below proves Amaferm's impact in key areas that effect profitable production.
Cumulative research shows that cows on Amaferm® experiencing heat stress...
Consume more feed (3%)
Have increased water intake (9.5%)
Show reduced body temperature (up to 1.7%)
Produce more milk (5.5%)
---
More Feed Intake
| Researcher | Control | AMAFERM | Change |
| --- | --- | --- | --- |
| Wallentine et al. | 46.5 | 46.5 | 0.0 |
| Huber | 41.9 | 43.9 | 2.0 |
| Kellems | 49.8 | 49.8 | 0.0 |
| Gomez et al. | 55.3 | 56.4 | 1.1 |
| Chiou et al. | 35.3 | 37.0 | 1.8 |
| Chio et al. | 35.3 | 35.5 | 0.2 |
| Chiou et al. | 35.3 | 37.9 | 2.6 |
| Baumgard et al. | 43.4 | 43.9 | 0.4 |
---
More Water Intake
---
Lower Body Temperature
---
More Milk
| Research | Control | Amaferm | Lactation | % Improvement |
| --- | --- | --- | --- | --- |
| Marcus | 63.80 | 67.54 | Early | 5.9% |
| Wallentine | 65.12 | 67.54 | Full | 3.7% |
| Huber | 49.72 | 51.92 | Mid | 4.4% |
| Kellems | 57.20 | 60.94 | Full | 6.5% |
| Kellems | 57.20 | 58.52 | Full | 2.3% |
| Kellems | 48.88 | 50.69 | Late | 3.7% |
| Kellems | 48.88 | 53.88 | Late | 10.2% |
| Gomez | 82.06 | 87.56 | Early | 6.7% |
| Gomez | 49.06 | 51.04 | Mid | 4.0% |
| Chiou | 54.14 | 55.13 | Early | 1.8% |
| Chiou | 54.14 | 56.54 | Early | 4.4% |
| Chiou | 54.14 | 56.14 | Early | 3.7% |
| Chiou | 71.87 | 75.39 | Early | 4.9% |
| Chiou | 71.87 | 81.22 | Early | 13.0% |
| Baumgard | 77.00 | 82.94 | Early | 7.7% |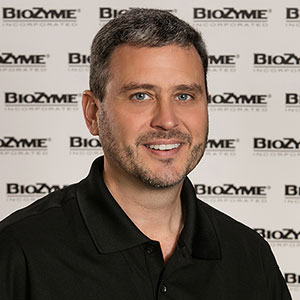 CLIFF OCKER
Pennsylvania, New York, Vermont
717-816-4523
cliffocker@biozymeinc.com