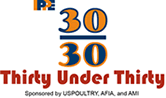 Lindsey Grimes, Nutrition Coordinator at BioZyme, Inc., has been selected to participate in the International Production & Processing Expo's (IPPE) Young Leaders "30 Under 30″ program.
'We couldn't be more proud of Lindsey. Although she has been with BioZyme for less than a year, she has proven to us in a short amount of time that she has what it takes to be a leader in the feed and supplement industries," said Lisa Norton, BioZyme Vice President of Sales and Marketing. "We are excited that she has been recognized by her peers and has earned this great opportunity to further her education and training."
The program is designed to recognize professional leadership qualities and provide exposure to the world's largest annual trade show involving the production and processing of meat and poultry products and the manufacture of feed and pet food products. Participants are also provided with education and training on the latest technology in their respective industries.
Selected program participants receive complimentary hotel accommodations for two nights, registration to attend IPPE and admittance to all complimentary education programs and one paid program. The 2016 IPPE is scheduled for Jan. 26-28 in Atlanta, Georgia.
The program targets young professionals between the ages of 21 and 29 who work for companies directly involved in the production and processing of poultry and meat, or in the production of animal/poultry feed. Participants must also be a member of at least one IPPE association (American Feed Industry Association (AFIA), North American Meat Institute (NAMI) or U.S. Poultry and Egg Association (USPOULTRY).
Growing up in the beef industry, Grimes of St. Joseph, MO has a Bachelor of Science degree from Ohio State University and a Master of Science in Ruminant Nutrition and Animal Breeding and Genetics from Kansas State University.
She is a former Beef Marketing Intern at Select Sires Inc. in Plain City, Ohio and a Spring Intern at Gardiner Angus Ranch in Ashland, Kansas. She is a member of the National Cattlemen's Beef Association, American Angus Association, Ohio Angus Association and American Society of Animal Sciences. She has also served on the National Junior Angus Association Board of Directors.
At BioZyme, Grimes is responsible for updating the online feed value barometer, developing feed rations for customers, coordinating producer meetings and dealer trainings, writing articles for publication and aiding the nutrition team.