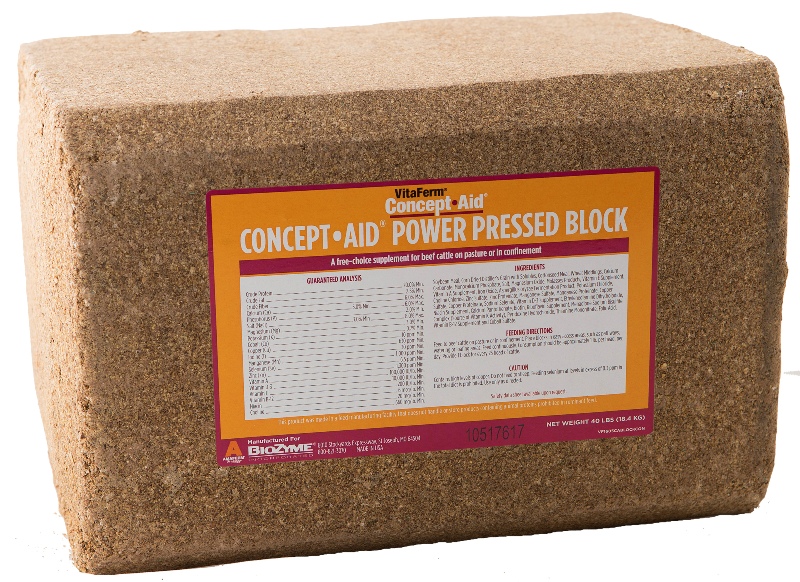 BioZyme Inc. brand VitaFerm® is now offering its highly bioavailable Concept∙Aid® breeding mineral in a convenient Power Block delivery system.
"The Concept∙Aid Power Block is a convenient delivery system designed to optimize forage digestion while enhancing reproductive performance," said Twig Marston, BioZyme Technical Sales Field Manager. "Concept∙Aid Power Blocks are formulated to deliver the same high-quality minerals, trace minerals and vitamins that are found in Concept∙Aid loose mineral with the added bonus of protein fortification and the dependability of a pressed block."
The new Concept∙Aid Power Block combines 20% natural protein with highly available organic copper, zinc, manganese and high levels of Vitamin E for free choice supplementation.
The block is specifically formulated to target cycling, embryo production and conception when fed to cattle 30 days prior to calving through breeding. The addition of BioZyme's proprietary Amaferm® advantage — a natural feed additive that acts as a prebiotic to increase digestibility to maximize the energy value of feed — has also been research-proven to increase energy available to the animal, resulting in more milk production as well as an increased ability to initiate and maintain pregnancy and fertility. The Concept∙Aid Power Block is especially beneficial in Artificial Insemination and embryo transfer breeding programs.
"Energy requirements increase significantly during the last third of pregnancy and while the cow is producing milk," said Marston. "Protein is the second limiting nutrient in most rations. Without adequate amounts of protein in the diet, daily feed consumption drops off, feed passage rates decrease and overall digestive efficiency declines. To get to most nutrition from low and medium quality forage-based diets, cow/calf producers should include Amaferm in their protein, mineral and vitamin supplementation programs. "
One 40-pound Concept∙Aid Power Block is recommended for 10-20 head of cattle. The rate of consumption is 1 lb. per head, per day.
For more information about VitaFerm's new Concept∙Aid Power Block, visit www.vitaferm.com/products/concept-aid-power-block/.