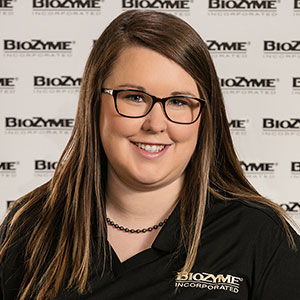 Erin Creason has been promoted to Director of Customer Support at BioZyme Inc., Saint Joseph, Mo. Creason had served as Inside Sales Coordinator since starting with the company in January 2016.
"This is a great opportunity for our customer support team to continue to provide the support and service they have become accustomed to, and our first initiative is to improve communication between both our inside and outside sales teams," Creason said. "Better communication inside our company trickles down to our dealers and helps everyone involved with our company."
"Erin's new role in our organization was previously done by myself as Vice President. Leading customer support was one of my favorite roles, but Erin will take this role to a whole new level," said Lisa Norton, President and COO of BioZyme. "She and her team are committing to considering our internal and external customers' perspective in everything we do and the business decisions we make, with the objective of ensuring a mutually beneficial relationship throughout the customer lifecycle."
In her new role, Creason will work with the eight-member customer support team to ensure they have all the resources they need to continue to be successful. She will assist them with their projects as needed and provide advice to them on any challenges that arise. She will oversee dealer requests, the training through the Online Dealer Center, orders and transportation of products and any other concerns that customers have.
"We have really good people that work here, and I look forward to coming to work each day. It is great to know we are selling products that improve animals' health while working for a company that supports animal agriculture and youth involved in agriculture, which is the industry and lifestyle I grew up in," she said.
Creason is a graduate of Northwest Missouri State University. She and her husband, Ed, live at Polo, Mo., and raise AKC-registered Corgi dogs, cattle and show pigs.
For more information about BioZyme and its product lines, visit www.biozymeinc.com.