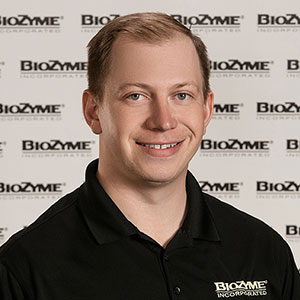 As a company's sales grow, so does the need to cultivate the skill set of its sales team. Trent Gabler, New Glarus, Wis., has been promoted to Sales Coach at BioZyme® Inc. He has worked as an Area Sales Manager, representing Iowa, Southern Minnesota and Southern Wisconsin since he started with the company two years ago.
"Trent is a detail-oriented, out of the box thinker who has a vast knowledge of all species," said Mike Wadle, National Sales Director. "He has a desire to see everyone succeed with our products, and that success begins with working with the ASMs who will help the dealers, who will ultimately help the end-users."
Gabler will assist the ASMs across the country with their sales skills and processes to help them become more efficient with their time and more effective in their sales techniques. He has already been working with a software program to help evaluate the sales team's strengths and weaknesses, so he can customize his coaching and help to the individual needs of each ASM. He referenced an article he recently read that said, if sales staff can be 5% more efficient with their time, sales have the potential to grow by 70%.
"I have always enjoyed helping others succeed and find solutions to their problems," Gabler said. "I want to help our team become more efficient in their roles and help them establish more of a work-life balance, while helping the company grow, and introducing more producers to our great line of products that help their animals stay healthy."
The Sales Coach position that Gabler is assuming will be different than the two National Sales Directors, he said. He will focus more on the process of the sale, and the National Sales Directors will continue to work with ASMs and the dealer network on specific accounts. Gabler is a good fit for this position because he has experienced the challenges and opportunities that the ASMs face and he understands the company's philosophy and product line.
Gabler will continue to call on his customers in Southern Minnesota and Iowa until his replacement is hired and trained. ASM Kevin Arand, who previously represented Northern Wisconsin, has begun and will continue to assist the dealers and customers in all of Wisconsin.