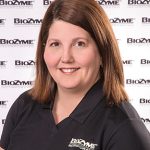 Cortney Malter has been hired as the Director of Marketing Outreach & Communication at BioZyme® Inc. 
In this new role, Malter will contribute her experience and expertise to the marketing team. She will focus her efforts on the company's growing additive opportunities and increase the emphasis on communication and training with dealers and staff. 
"Cortney will be a terrific asset to BioZyme," said Lisa Norton, BioZyme President and COO. "Her experiences and skills are a perfect match for the roadmap on which BioZyme is headed. Our rapid growth demands a strong marketing professional skilled in market planning, integrated marketing and marketing strategy. That's Cortney to the T." 
Malter offers an extensive background in agricultural communications and marketing to the rapidly growing animal nutrition company, having worked in the industry for nearly 20 years. Most recently, she was with Boehringer Ingelheim as a marketing manager, where she led strategic brand initiatives in the beef and dairy markets. Prior to her animal health experience, Malter also worked for Pioneer Hi-bred managing marketing communications efforts for multiple product lines, including new product launches. While most of her career consists of corporate experiences, she has also invested time with multiple agencies where she led integrated marketing and public relations efforts for national ag accounts. 
"I am genuinely excited to work at BioZyme, a company known for its great product portfolio that is experiencing strong growth in the animal nutrition industry," Malter said. "I am passionate about agriculture, especially animal agriculture. To work for BioZyme, a company that offers producers quality products and solutions to enhance their herd health, is a privilege. It is an exciting time in our business. I grew up with livestock and want to see this industry thrive for years to come." 
Malter is a University of Missouri graduate. Her husband Kyle is a veterinarian and works in the animal health industry. They live just north of Kansas City with their two sons on a small cow-calf operation.