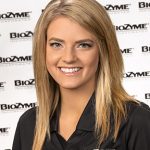 Jessica Judge has been hired as the Sure Champ® Marketing Intern for BioZyme® Inc.
A California native, Judge will graduate in May from Oklahoma State University with a bachelor's in Animal Science with a concentration in Ag Business. While at OSU, she was a member of the National Champion Livestock Judging Team and earned the High Individual honor at the 2017 North American. She has been involved in OSU Collegiate Cattlewomen and Block & Bridle. Prior to attending OSU, she attended Butler Community College, where she judged livestock and was instrumental in starting the Collegiate Farm Bureau club. She and her family have raised and shown cattle her entire life. She was active in 4-H and FFA and played basketball competitively, all through high school.
"We couldn't be more excited to welcome Jessie to the team this summer! She is an impressive young woman. Jessie's background in the cattle business and understanding of our level of commitment to the youth of our industry gives us confidence that she will be a great fit for our internship program," said Jackie Lackey, Director of Strategic Marketing for BioZyme Inc.
As the Sure Champ intern, Judge will focus on the preparation and execution of events leading up to and at the Junior National Hereford Expo. She will work closely with the BioZyme staff to promote the Sure Champ, Vita Charge® and VitaFerm® product lines at the JNHE. In addition, Judge will have the opportunity to travel with and learn from some of the sales staff.
"Through showing cattle, we always fed a lot of Sure Champ products, so I have been aware of their impact," Judge said. "I am extremely excited to work with individuals that care for people and their customers as much as they do for their livestock. I think it is a great opportunity to be surrounded by some the industry's best who are highly talented in their specific position, and I am excited to learn from these people."
Sure Champ is line a of livestock show supplements that proactively work to assist with the challenges created by the show environment. Sure Champ uses only the highest quality components and proprietary ingredients proven to generate high-yielding results.