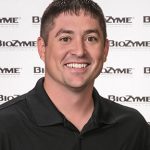 Jordan Milliren, Webster City, Iowa, joins the BioZyme® staff as an Area Sales Manager. He represents Iowa and Southern Minnesota. In his role, he will work to develop new and build upon current dealer and customer relations while promoting BioZyme's many brands.
"I am excited to return to the livestock world, where I have a great passion, and promote animal nutrition products," Milliren said. "I look forward to using my product knowledge to help expand the customer base in my area that has a lot of species diversity. And it will be nice to focus my efforts on two states instead of a larger area that I have been covering."
Milliren is a Wisconsin native, where he grew up on his family's registered Holstein farm. As he got older, he started his own beef cattle operation, allowing him the freedom for more travel while raising seedstock and club calves, which he still enjoys doing today. He earned a bachelor's degree in Animal Science from the University of Wisconsin-River Falls.
Milliren has spent his entire career in agricultural sales and customer service. He spent time working on the dairy side at Accelerated Genetics. He worked for Cyclone Trace, a registered Shorthorn operation. He has worked the plat 6 ½ years at Hagie Manufacturing, with a focus on precision sprayers.
"Jordan is extremely passionate about animal agriculture and helping others succeed, which is the goal of our company. His drive and passion will be valuable assets to the BioZyme team," said Mike Wadle, BioZyme Director of Sales – North.
As an ASM, Milliren will promote sales of BioZyme products and support the company's dealer network in his area. BioZyme's supplement brands include VitaFerm®, Sure Champ®, Gain Smart®, Vita Charge®, DuraFerm®, and Vitalize®. For a list of BioZyme Area Sales Managers, visit https://biozymeinc.com/our-staff/.