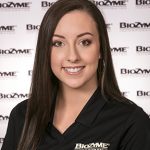 Tiara Ward has been named the Additive Brand Manager at BioZyme® Inc. In her role, she will work to grow additive brand awareness and support through marketing efforts both domestically and globally.
"I'm so excited to brainstorm and see what we can do with Amaferm® and our other additive brands to help grow their awareness. I offer a fresh, new perspective to BioZyme and with fresh ideas, we can come up with some creative ways to grow and expand Amaferm as a brand, while creating awareness for our other additives," Ward said.
Ward earned her bachelor's degree in Business from Northwest Missouri State University where she had a dual-major in management and marketing. She has gained valuable marketing experiences through an internship at Harrison County Community Hospital and most recently as the marketing director for a local gun shop and range.
"We are extremely pleased that Tiara has joined the BioZyme team. She will focus on our additive business both domestically and abroad. With the growth we are experiencing with Amaferm it was important we add an internal champion for our partners and international sales team," said Kevin Hayes, Director of Outreach at BioZyme Inc. "Tiara has a successful track record of helping local, small businesses grow, and her experience will transfer very well to BioZyme's additive business."
"I really love the fact that BioZyme is a leader in the industry. The company makes top-of-the-line products that are all backed by research. I'm proud to tell people about where I'm working and about the products we make," Ward said.
Ward is a native of Bethany, Mo., and comes from a farming family. She was involved in competitive dance while at NWMSU. She continues to enjoy working out and exercising. She works out of the St. Joseph, Mo., office.