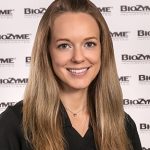 BioZyme®Inc. announces the hiring of Avens Ridgeway as its Training Manager. In this newly created position, Ridgeway will bring her expertise in training and interpersonal skills to the headquarters in St. Joseph, Mo., to help all employees feel more successful in their professional growth endeavors.
"Initially, I hope I can make training more a part of the culture here at BioZyme. Not only making new hires feel more comfortable about their role and their value in the company, but also empowering existing employees and helping them grow professionally and meet personal goals that will ultimately help the company grow and succeed," Ridgeway said.  "In this new position, I look forward to working with everyone here. I want this training initiative to be a collaborative effort; learning from recent hires of their onboarding experience as well as incorporating feedback from employees who have been at BioZyme for years."
Ridgeway, a native of Maine, attended Lyon College in Batesville, Ark., where she earned her Bachelor's degree in Psychology. She received a Master's in Organizational Psychiatry and Psychology at King's College London. She most recently worked as a consulting analyst with Huron Consulting Group in Chicago.
"Avens brings a great background in interpersonal relationships, goal setting and training to help individual employees succeed, which in turn helps a company grow. We are excited to have her on our team," said Kevin Hayes, Director of Outreach at BioZyme.
For a company, whose motto is "care that comes full circle," Ridgeway's role is significant to providing that care because if the employees receive the training they need, they will be more effective, passing that care onto the customer.
"Our employees are our biggest asset. Caring about our employees by offering opportunities for training, encouraging and supporting them to accomplish personal career goals will only help push that care full circle, and ultimately help our end-users," she said.
Outside of work, Ridgeway enjoys competing professionally on the bagpipes and is also teaching herself to play guitar. She likes reading, hiking, and supporting the Missouri Western State University men's basketball team – Griff Up!