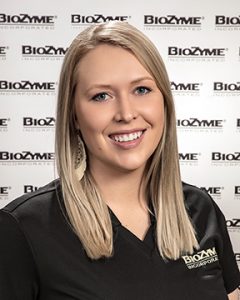 BioZyme® Inc., announces that Meghan Bochanski, Scottsbluff, Nebraska, is its new Area Sales Manager, representing the state of Nebraska. As an ASM, Bochanski will work to develop new dealerships and build upon current dealer and customer relations while promoting BioZyme's many brands.
"I'm very excited to meet our customers and dealers, learn about their goals and needs and help them achieve their goals with the help of a quality nutrition program like BioZyme," Bochanski said.
Bochanski is a Vermont native, but her parents had lived in Wyoming, and she has family in Colorado, so trips West were part of her childhood. As soon as she graduated from high school, she moved to Laramie, Wyoming. She is a 2018 graduate of the University of Wyoming with a degree in Animal and Veterinary Science. While in college, she worked for the Wyoming State Veterinary Lab, the University of Wyoming Meat Lab and University Farm. She is a certified A.I. technician and enjoys helping on her boyfriend's family farm with cattle, alfalfa and corn. She most recently worked for Animal Health International.
"Meghan is going to be a great addition to the BioZyme team. She has a strong work ethic and a wonderful personality. Combine that with her extensive background in animal health and animal breeding, and she will be a great resource for our customers," said Mike Wadle, BioZyme National Sales Director.
"The thing that really intrigued me about BioZyme is I could tell by looking at the website that they have a great relationship with their customers. You can see that by reading the testimonials. And it is a company that is community-oriented and really cares about others," Bochanski said.
For a list of BioZyme Area Sales Managers, visit https://biozymeinc.com/our-staff.