(SAINT JOSEPH, Mo., June 23, 2020) Taylor Ware, Kansas City, Missouri, has joined the BioZyme® Inc. Marketing Team as the 2020 Summer Intern. She will gain a variety of experiences ranging from event management and execution and social media to consumer marketing and writing.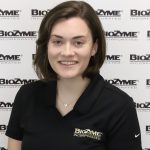 Ware will be a senior at Missouri State University in Springfield, where she is majoring in Public Relations with a minor in Creative Writing. On campus she is active in both the marching and concert bands and is the president of the honorary band fraternity, Kappa Kappa Psi. She is a published poet and writes a variety of poetry. When time allows, the once competitive figure skater still also enjoys skating.
"I am really excited to get to know people in the field, make connections, travel and learn more about marketing and public relations this summer," Ware said.
She will have the opportunity to work with all BioZyme brands through various aspects of her internship, travel to junior nationals and get an inside look at what the various marketing team members do.
"I am excited to bring Taylor on board for the summer to join our marketing team. Her background in PR and creative writing will be a great asset to leverage as we work to cover our summer show tour and develop engaging social content," said Jessica Judge, BioZyme Marketing Brand Manager. "With her limited agriculture and livestock background, we have a unique opportunity to capitalize on her outside perspective as it relates to communicating with customers in our industry, and it is my hope that she will get a cohesive snapshot of the agriculture field we specialize in. We are so excited to have Taylor at BioZyme, and we hope she has an engaging summer full of growth and development in a new field."
BioZyme has headquarters in Saint Joseph, Missouri, and develops and manufactures natural, proprietary products focused on animal nutrition, health and microbiology. With a continued commitment to research, BioZyme offers a complete line of feed additives and high density, highly available vitamin, mineral, trace mineral and protein supplements for a variety of animals including cattle, pigs, poultry, sheep, goats, horses and dogs. The company reaches a global market of customers that stretches into countries across five continents.