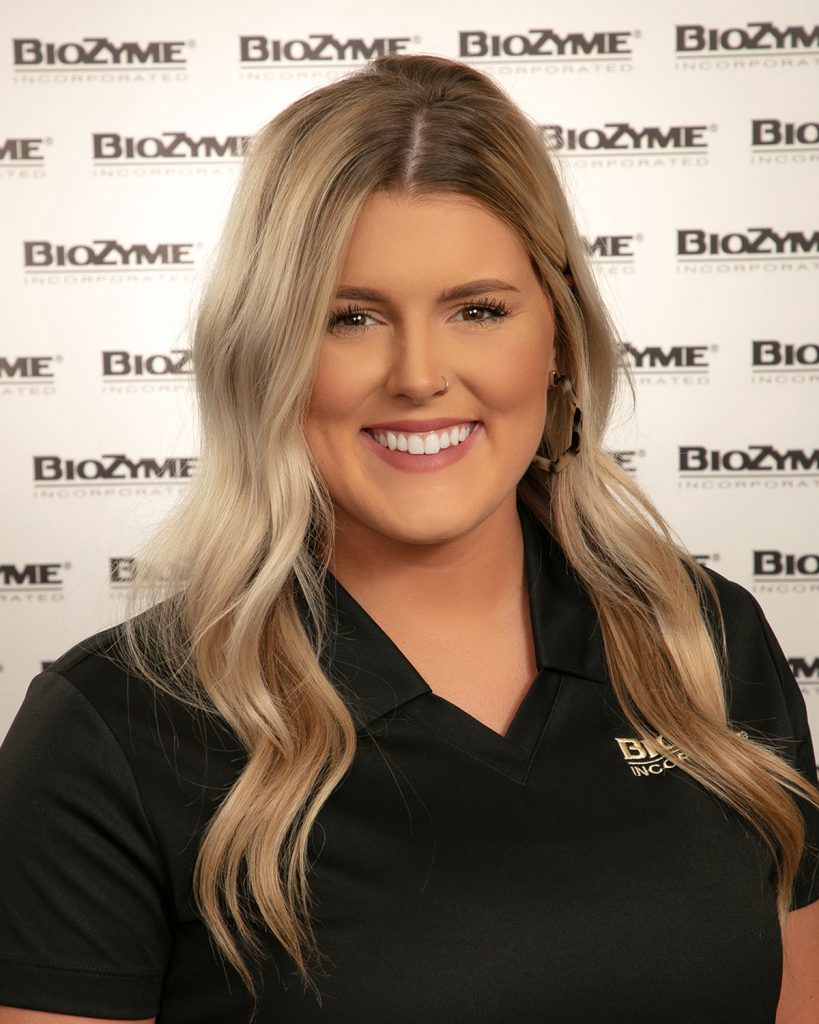 BioZyme® Inc. is pleased to announce its first Organizational Development Intern, Maddie Dollar, Saint Joseph, Missouri. Dollar has joined the BioZyme team through an internship that will allow her to work with both the Human Resources and Organizational Development segments of the business, utilizing her training and experience in business management.
Dollar, a Saint Joseph native, is a senior at Missouri Western State University pursuing her bachelor's degree in Business Management. She is also enrolled in master's level course work. She has gained valuable experiences working in customer service and management full-time, while attending college, thanks to online coursework. She is excited to become more engaged in the HR side of business. Her hobbies include spending time with family and traveling, with a goal of traveling the world someday.
"I'm excited to use the skills I've learned in school and apply them and offer that as an opportunity to BioZyme," Dollar said.
During the internship, Dollar will have the opportunity to help create training content, offer support to employee engagement, assist with leveraging Culture Index data, plan content for internal newsletters, and assist and learn more about HR and organizational development. She will work with long-time professionals in their respective areas of business, Adam Norton, Director of HR, and Avens Ridgeway, Organizational Developer.
"I'm really excited to have Maddie joining our team now through October. She has a background in business management, a work ethic that has been proven at multiple jobs, and a genuine interest in working with people. Adam and I look forward to introducing Maddie to various aspects of Organizational Development and HR. We are excited to provide Maddie with an internship experience that enables her to gain the skills and professional development needed to continue her already successful start of her professional life," Ridgeway said.
Dollar is excited to explore the diversity and the synergies that exist between HR and development.
"My degree is business management, which focuses on the HR side of business and the interaction and engagement. Avens and Adam work closely together but are on two different spectrums of HR so I am getting to see Adam's side and his very specific jobs, and Avens' where she is trailblazing and implementing new training. I'm really working hand in hand with her. This is the perfect opportunity to see which lane I want to take, and I've really enjoyed getting to work with both of them," Dollar said.
BioZyme has headquarters in Saint Joseph, Missouri, and develops and manufactures natural, proprietary products focused on animal nutrition, health and microbiology. With a continued commitment to research, BioZyme offers a complete line of feed additives and high density, highly available vitamin, mineral, trace mineral and protein supplements for a variety of animals including cattle, pigs, poultry, sheep, goats, horses and dogs. The company reaches a global market of customers that stretches into countries across five continents.
###