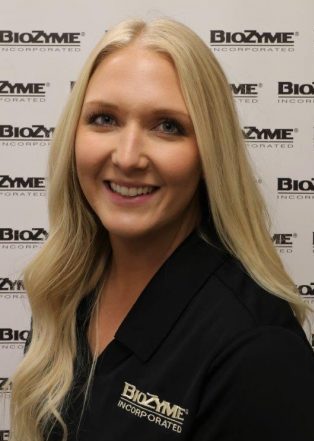 Maisie McClure, Saint Francisville, Illinois, is the Marketing Brand Coordinator – Beef/Show for BioZyme® Inc. In her role, she will represent the company at various beef industry events and livestock shows promoting the VitaFerm®, Vita Charge® and Sure Champ® brands, while helping maintain brand awareness across various marketing channels.
"I am most excited to be able to work with people in the livestock industry that I am so passionate about while promoting the BioZyme brands. I really enjoy working with and meeting new people and especially working with youth," said McClure.
McClure, a Wisconsin native, grew up showing hogs competitively with her siblings. She earned her bachelor's degree in Animal Science from Western Illinois University in 2017. She most recently worked for the University of Illinois Extension, where she helped plan and execute 4-H events and started a county 4-H judging team. She and her husband, Eric, live on his family's diverse family farm where they raise purebred cattle and commercial hogs. She still enjoys helping her siblings with their family's show pig operation and helping her husband in the barn, when time allows.
"We couldn't be more excited to welcome Maisie to BioZyme. We are thrilled to have Maisie's livestock experience and enthusiasm on our Marketing Team," said Kristi Stevens, Senior Manager of Marketing Operations at BioZyme Inc., "Her fresh perspective coupled with her background and passion for animal agriculture make her an excellent addition to the company."
McClure will help create marketing strategies across the cattle and show brands, using her background and knowledge. She will be integral in creating brand awareness, working with the Progressive Cattlemen campaign, organizing and attending educational events where the brands are represented and overseeing the Sure Champ Leadership Team. In addition, she will collaborate the Marketing Team to ensure the company goals are met.