NEW PRODUCTS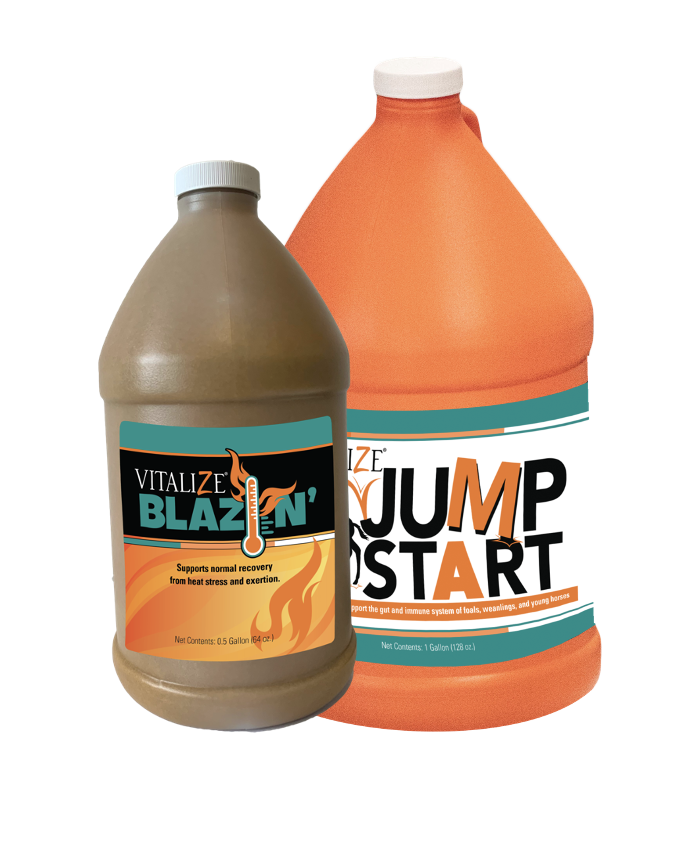 On May 1, BioZyme® will launch two new Vitalize® products. Vitalize Blazin' is a product developed for horses to support normal recovery from heat stress and exertion. It is available in a 64 oz and 32 oz bottle. Additionally, Vitalize JumpStart will be added to the price list and serve as a nutritional boost to support the immune system of foals, weanlings and young horses. It is available in a 1-gallon jug. Blazin' and JumpStart will be offered in a liquid form, designed to be used as a top dress and drench, respectively.
On April 1, BioZyme launched VitaFerm® Concept•Aid® 5/S HEAT® with Clarifly®. This product will only be available in registered states. The states we have received approval for are: Alabama, Arkansas, Colorado, Florida, Georgia, Iowa, Idaho, Illinois, Indiana, Kansas, Kentucky, Louisiana, Michigan, Minnesota, Mississippi, Missouri, Montana, Nebraska, New Mexico, North Carolina, North Dakota, Ohio, Oklahoma, Pennsylvania, South Carolina, South Dakota, Tennessee, Texas, Utah, Virginia, West Virginia, Wisconsin and Wyoming.
PRICING UPDATES
According to the March 31 Wall Street Journal, makers of everything from diapers to cereal are starting to feel the strain of higher prices on literally everything. Cheerios™ maker General Mills said it will raise prices to partly offset higher freight and manufacturing costs, in addition to rising commodity prices. J.M. Smucker Co. said it recently raised prices for its Jif® peanut butter and that it might do the same with pet snacks because of higher shipping costs. Global supply chains, which were already experiencing a crunch due to the Covid-19 pandemic, have seen additional supply disruptions. The February freeze that triggered mass blackouts in Texas led to chemical plant shutdowns and caused a shortage of the raw materials needed for almost everything. As a result, prices for polyethylene, polypropylene and other chemical compounds reached their highest levels in years. The maker of Gillette® razors and Tide detergent cited rising costs for raw materials, such as resin and pulp, and higher expenses to transport goods in their price increases. The point is that almost everything is going up in price. BioZyme has been hit hard by these same dynamics. We received notice this month that things that rarely change in price are all going up. This includes bags, mineral oil, ink, labels, ingredients, fuel surcharges, pallets, the plywood in between the tub layers (this one has gone up this year from $13 to $95) and the list goes on and on. We are trying to do everything in our power to keep these changes under control, but you should know that this is an unprecedented time in our history as it is for all of us. So, hang in there with this and we will all survive together and remember it is not how we stand in moments of comfort and convenience, but how we stand during times of challenge that really matter.
SHIPPING UPDATES
EFFECTIVE IMMEDIATELY: Due to consistent service delays, high damage rates and a change to their freight claim reimbursement policy, BioZyme, Inc is no longer shipping products with Dohrn Transfer Company. Customers and Area Sales Managers [ASM] can still choose to use Dohrn Transfer Company for shipping LTL orders. However, both the Customer and the ASM must sign a Release of Liability for each order for which Dohrn Transfer Company will be used.

FREIGHT CLAIM REMINDER: Please remember that you MUST notate what was damaged and sign the DRIVER'S copy of the delivery receipt in order to submit a freight claim. The freight companies deny our claims when the delivery receipt is not signed, and we cannot provide a credit on denied claims.
EMPLOYEE UPDATES
Carrie Butley has joined BioZyme as the new Concetti Bagging Operator.
CHANGES COMING IN JUNE 2021
ORDERING UPDATES
Starting on June 1, 10 lb. bags of Vitalize® Digest More® Plus can only be ordered in a case quantity of 4 instead of as single bags.
CHANGES COMING IN JULY 2021
PRODUCT UPDATE
On July 1, the Vitalize® Alimend® and Vitalize® Alimend® K9 labels will be getting updated to comply with NASC standards. Though the presentation of the labels will look different, the formula and ingredients will remain the same. The feeding directions will be changed to mL (instead of ounces), but the feeding rate will not change.