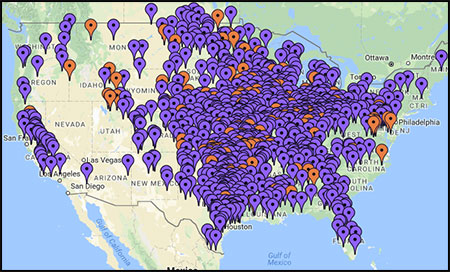 BioZyme® is fortunate to have over 1,000 dealers located across the United States. Dealers go through a rigorous process in order to qualify to carry our products in an effort to ensure they are the "right" dealer for our customers. We work hand-in-hand with our dealers to offer extensive product and business training so we can become better together.
In 2017, BioZyme implemented the Master Dealer Program that requires dealers to participate in advanced learning modules so they can become product experts. In addition, they are required to carry a diverse mix of product lines ensuring they have what you need when you enter their dealership. BioZyme Master Dealers are easy to identify on our Online Dealer Locator as their pin on the map is orange, and when you click on their dealership you will see the Master Dealer icon indicating their status.
Because our dealers are extensively vetted, we realize there are areas in the US we still have yet to find the "right" dealer for you. If you are unable to find a dealer in your area, we would love your help. Please click on either link below if you or someone you know would be a great fit to join our BioZyme team!
If you need additional help, always feel free to contact an Area Sales Manager in your area. We look forward to serving you and the needs of your animals.