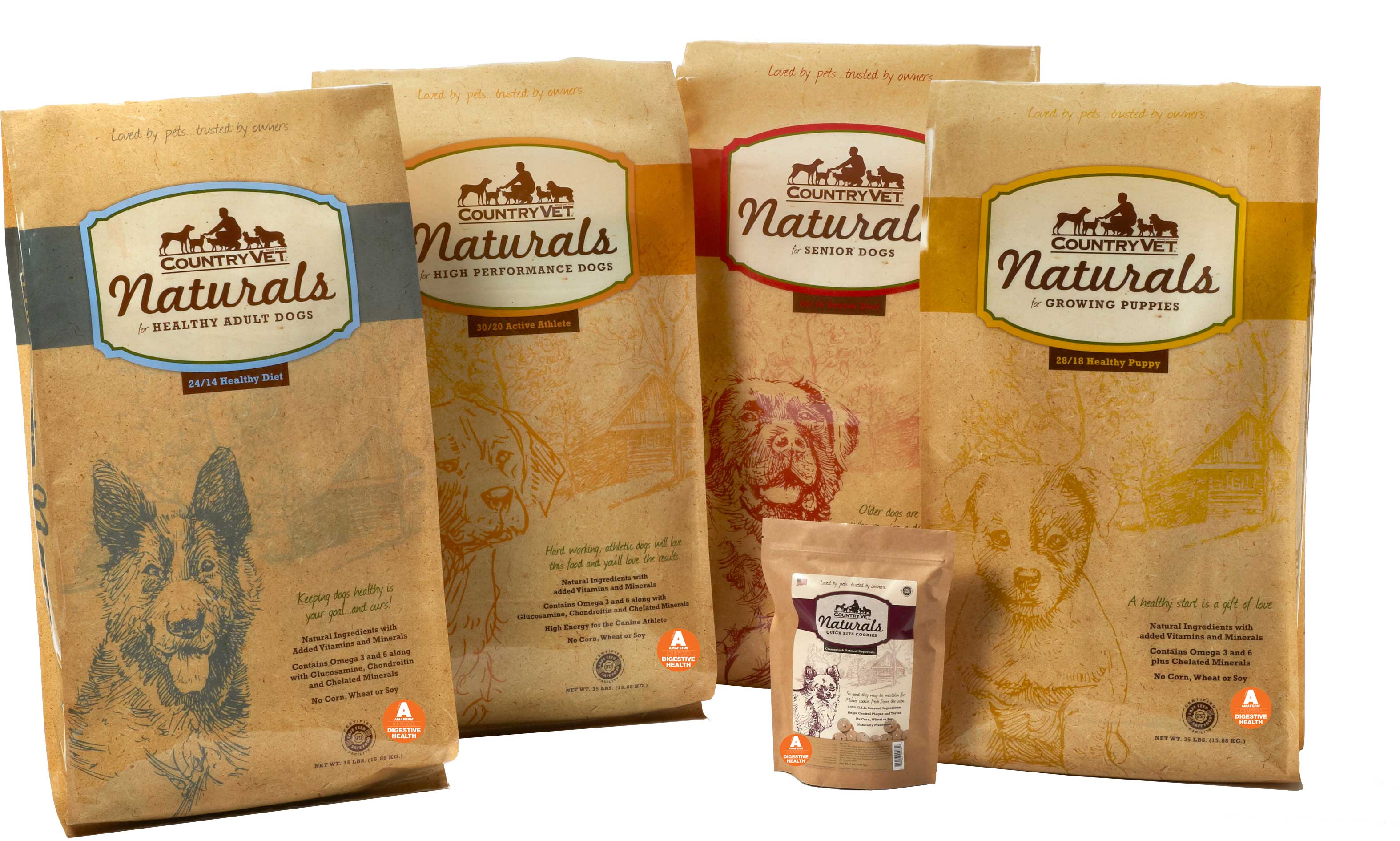 BioZyme Inc. has become a distributor for Country Vet® Naturals dog food line available in four formulations for: Healthy Adult Dogs, Growing Puppies, High Performance Dogs and Senior Dogs.  Research tested to improve overall canine health, appearance and appetite, Country Vet Naturals contains added vitamins and minerals and no fillers such as corn, wheat or soy.
Each formulation also contains BioZyme's proprietary Amaferm® — a natural feed additive that acts as a prebiotic to increase digestibility and maximize energy. Amaferm has been research proven to have significant health benefits to dogs. In a Professional Kennel Research Trial of 157 dogs fed Amaferm, scientists reported a 26% improvement in general health, 74% improvement in skin and hair quality, 14% improvement in stool consistency and 67% improved appetite.
Additional natural ingredients contained in each formulation include chicken meal, brown rice, brewer's rice, pork meal, fish meal, dried beet pulp, dried egg product, fish oil, yucca schidigera extract, dried chicory root, and others.
"We knew from our extensive experience and research within the realm of livestock nutrition that Amaferm would be a great benefit to the canine digestive system and appetite as well," said Lisa Norton, BioZyme vice-president. "Stress, sickness, heat and activity can all wreak havoc on a dog's digestive system. The Country Vet Naturals line of dog food helps to keep their digestive systems in balance, while providing the right combination of vitamins, minerals and other natural ingredients to help a dog feel and look their best during every stage of life."
Country Vet Naturals for Growing Puppies
Formulated to support the development of healthy muscles and joints, Country Vet Naturals for Growing Puppies contains:
Added vitamins and minerals
Amaferm for digestive health
28% protein
18% fat
DHA, a natural supplement that studies show improves brain function and development
Country Vet Naturals for High Performance Dogs
Formulated for high performance, hard working dogs, Country Vet Naturals for High Performance Dogs contains:
Glucosamine and chondroitin to support joint health
Omega 6 and 3 for improved skin and hair
Amaferm for digestive health
30% protein
20% fat
Country Vet Naturals for Senior Dogs
Aging dogs require special diets that promote healthy digestion and a strong immune system and contain less calories for their lower metabolisms. Country Vet Naturals for Senior Dogs, specially formulated for dogs eight or more years old, contains:
Glucosamine and chondroitin to support joint health
Amaferm for digestive health
Omega 6 and 3 for healthy skin and hair
24% protein and 10% fat
Country Vet Naturals for Healthy Adult Dogs
Formulated to maintain a healthy weight in adult dogs, Country Vet Naturals for Healthy Adult Dogs contains:
Omega 6 and 3 for improved skin and hair
Glucosamine and chondroitin for healthy joints
Amaferm for digestive health
24% protein and 14% fat
Each formulation comes in a 35 lb. bag and is available for purchase online through BioZyme's website