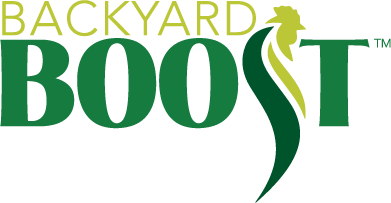 As the backyard chicken trend continues to grow, so does the desire for BioZyme® Inc., to help all animals stay healthy and reach their maximum potential. BioZyme has developed Backyard Boost®, a line of natural products that are purposefully crafted to support the health, wellbeing and productivity of poultry. Backed by research, Backyard Boost uses only the highest quality components and proprietary ingredients proven to support a flourishing flock. 
Backyard Boost will initially offer two products in its line, Daily Essentials and Defense. Both products will include the precision prebiotic Amaferm®, research-proven to increase digestion of feed and absorption of nutrients to help maximize egg production and quality. The products can be fed together and won't interfere with antibiotic use when treating sick chickens.
"BioZyme is continuously looking for ways that we can diversify and use our strengths to expand our reach with 'care that comes full circle' [BioZyme's mission]. We have known for some time that the backyard poultry industry was growing at an astonishing rate, and that growth was compounded by the COVID-19 pandemic. Our New Products Team, led by myself with the expert advice of our Business Development, Nutrition and Marketing leaders, really felt that with our expertise and knowledge in prebiotics we could bring unique products to market that would be beneficial to chickens and chicken owners alike," said Lynsey Whitacre, Ph.D., BioZyme Companion Animal Business Development.
Backyard Boost Daily Essentials is a pelleted, natural protein supplement fully fortified with the prebiotic Amaferm, vitamins, minerals and organic trace minerals to maximize growth and egg production and support overall flock health. It contains additional protein to support growth, feather quality, and egg production and calcium and other nutrients for natural improvement of eggshell and yolk quality. While maximizing the overall performance of your backyard chickens, it also helps improve gut health and overall wellbeing.
As implied by its name, Daily Essentials should be fed daily for maximum results. It compliments your chicken's feed by maximizing the nutrients they receive from their feed. It can be fed on top of the feed or scattered around the pen for the chickens to scratch during the day. It comes in two sizes, a 2.5 lb. or 10 lb. resealable bag.
Backyard Boost Defense is a liquid supplement that promotes feed and water intake during times of stress and recovery to help support digestive health and a healthy inflammatory response. Defense also contains the precision prebiotic Amaferm to help combat the negative effects of stress and get hens back to producing eggs faster. In addition, it provides MOS to trap and expel unwanted disease-causing pathogens, limiting their ability to do harm, and electrolytes to support proper hydration.
Defense is designed for intermittent feeding during times of stress and recovery and should be mixed daily for optimum freshness. It comes in a 16 oz. twin neck bottle with dosing chamber for easy and efficient measuring.
"We are already looking forward to further expanding the Backyard Boost brand later this year. We are having fun with it and are so excited to bring these products to market because we really feel we can help solve some of the challenges people are facing using research-proven ingredients like Amaferm," Whitacre said.
Now, backyard chicken enthusiasts can rely on the same quality nutritional products that cattle, goat, sheep and pig producers have come to rely on for their quality nutrition programs. Backyard Boost – like VitaFerm® for chickens – proven to support a flourishing flock.
BioZyme Inc., has headquarters in Saint Joseph, Missouri, and has been making products to ensure animals' health and comfort for 70 years. All supplements are American made, either in Saint Joseph, Missouri, or Lexington, Kentucky, by animal enthusiasts who know how much a person values his or her chickens. To learn more about Backyard Boost or to find a dealer near you, visit www.backyardboost.co.