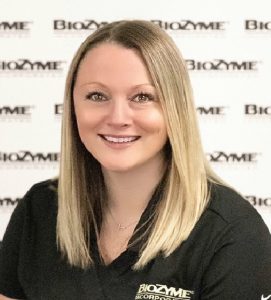 Heather Brant is the new Outreach Support North Coordinator at BioZyme® Inc. The Saint Joseph native joined the Outreach staff in December and is responsible for ensuring the new dealer process is efficient, effective and friendly for the North Team. In addition, she will assist the Sales Team to ensure sales grow and customers get supported, while being responsible for recruiting new dealers in the North.
Brant brings nearly five years of call center experience to the position, as she previously worked as a 9-1-1 operator for the Saint Joseph Police Department. She was promoted to a lead operator after one year in that job. She attended Missouri Western State University. Three children that range in age between 9 to 15 years-old keep her busy away from the office. She enjoys watching them do what they love, playing sports or dancing.
She said she is ready to broaden her skill set while still using her call center expertise. Brant is looking forward to working with the customers, dealers and Area Sales Managers (ASMs) in the north to help them succeed while growing BioZyme's sales.
"I am super excited to have Heather as part of the Outreach Support Center, with her background in emergency management. She brings great value to the team with being detail-oriented, self-motivated, and a quick learner with a great personality," said Jennifer Miller, Outreach Support Manager at BioZyme.
As the Outreach Coordinator, Brant is responsible for the onboarding process of all new dealers in her territory. She will also work as a support liaison between the dealers, ASMs and the office, making sure proper paperwork is in order, and assisting with communication and activities in a timely manner.
"I'm ready to dive in and start building a relationship with the dealers and get to know them and the ASMs and the rest of the team better. I'm really looking forward to working in this fast-paced, goal-oriented family atmosphere," Brant said.