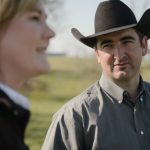 There is no denying that Alan Lee was put on the Earth to help others. The Arkansas native is usually found with a smile on his face and a joke ready to tell, but he's just as likely to ask how he can help you out. His demonstration of the company slogan, "Care that comes full circle" is just one reason Lee has been promoted twice within his six years with BioZyme® Inc.
Lee is one of two National Sales Directors for the growing animal nutrition company based in St. Joseph, Mo. He didn't just land that position. He started as an Area Sales Manager for Arkansas and Louisiana in 2012, was promoted to Sales Coach, and has been Director of National Sales since 2016. He currently resides in Gillham, Ark.
"One of my goals is to assemble and lead the most educated, highest-performing sales team in the industry," Lee said. "It is of the upmost importance to me that this sales team always puts our customers' and their livestock's wellbeing as their number one priority. We are simply here to help people."
As a National Sales Director, Lee is responsible for half the sales force and works closely with Mike Wadle, the other National Sales Director, to ensure the entire sales team – 20 total – have the training and resources they need to effectively help livestock enthusiasts across the United States. The sales team has an open line of communication, much like the entire company, to make sure they work efficiently and offer the most assistance to the customers who use their products.
"This quote from Ronald Reagan reminds me of Alan. 'The greatest leader is not necessarily the one who does the greatest things. He is the one that gets the people to do the greatest things,'" said Lisa Norton, President and COO of BioZyme.
Lee's passion for the livestock industry and its people started early in life. He earned a bachelor's degree in Animal Science from the University of Arkansas and was on the livestock judging team both there and Eastern Oklahoma State College. He completed the Arkansas Cattlemen's Association's Young Cattlemen's Leadership Course in 2016.
Lee has been on the Sevier County Farm Bureau Board, and during his four years on the board served as secretary and vice-president and was on the scholarship committee. He and his wife Christy were also recognized as the top two in the Young Farmers and Rancher Excellence in Ag Award at the State Level.
After college he worked for the University of Arkansas Cooperative Extension Service, and then worked in sales positions before joining BioZyme in 2012, where he has been part of the significant growth of the company.
Lee is excited for the continual growth of BioZyme, and anxious to lead the sales staff to the next level. He said with their combined dedication, commitment to the brands and industry knowledge nothing is impossible.