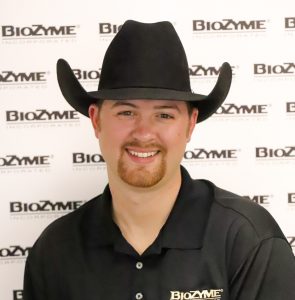 BioZyme® Inc., announces the hiring of Shane Schaake, Manhattan, Kansas, as its new Area Sales Manager, representing the state of Kansas. As an ASM, Schaake will work to develop new dealerships and build upon current dealer and customer relations while promoting BioZyme's many brands.
"One of my personal beliefs is if somebody else succeeds and I help them get there, then I succeed. BioZyme is no different than that. It's a reputable company that works in providing top-quality mineral to progressive producers," Schaake said.
Schaake grew up on his family's Simmental operation north of Manhattan, Kansas, where they still raise about 100 purebred and percentage Simmental cows. They host an annual heifer sale with a focus on selling junior show heifer prospects. They also conduct a spring bull sale. He and his wife, Melissa, have started building their own herd of registered Hereford cows. He has a bachelor's in Animal Science from Kansas State University and most recently worked for Genex. Although he said cattle are his first passion, he also enjoys hunting, fishing and spending time with family.
"Shane will be a great addition to our sales team. He brings a wealth of experience to the position as well as an extensive network and knowledge of Kansas producers," said Jake Warntjes, BioZyme National Sales Director.
"It seems like one of the big philosophies about BioZyme is you take care of them, and they'll take care of you, so I am pretty excited. I'm going to hit the ground running, and really focus on those progressive people who really want to work at being a dealer," Schaake said.
BioZyme, with world headquarters in Saint Joseph, Missouri, is known for its supplement brands VitaFerm®, Sure Champ®, Vita Charge®, DuraFerm® and Vitalize®. The company also manufactures and markets Amaferm®, the key additive in all its supplements. For a list of BioZyme Area Sales Managers, visit https://biozymeinc.com/our-staff.