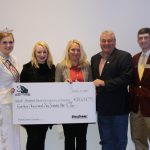 Hereford producers know that feeding a quality mineral program pays. For the last year, the return has been more than just healthy, growing, productive cattle. BioZyme® Inc., makers of VitaFerm®, and the Hereford Youth Foundation of America have partnered to create the "Feed the Future" program, where BioZyme pledged to contribute $1 to HYFA for every bag or tub of eligible VitaFerm supplement that any American Hereford Association member bought prior to the AHA Annual Meeting.
On Oct. 27, Lisa Norton, Vice President of BioZyme, presented HYFA a check for $14,671, and thanked Hereford breeders for stepping up to the plate and turning in their receipts throughout the year. The presentation happened during the AHA Annual Meeting in Kansas City, Mo.
"Our founder Larry Ehlert always said 'Feed them as well as you breed 'em.'  Still, to this day BioZyme believes this is true whether you are talking about cattle or youth," Norton said. "The Feed the Future program has been another way BioZyme can support the young people and the advancement of the breed. We are excited to continue this program into year two, and we know the opportunity to triple the impact is there."
Because BioZyme believes so strongly in the future of young people involved in agriculture, they have agreed to continue the Feed the Future program into 2018. Receipts for product purchased and turned in from Nov. 1, 2017 through Oct. 31, 2018 will count toward the 2018 contribution to HYFA.
"Feed the Future has the ability to take the Hereford Youth Foundation of America to the next level, and create more opportunities for Hereford youth in terms or education and leadership. BioZyme is such a big part of our past, and now this makes them an integral part of our future," said Amy Cowan, AHA Director of Youth Activities and Foundation.
During the next year of Feed the Future, BioZyme will include Vita Charge® Stress Tubs in its list of products eligible for the program. Other qualified products include Concept•Aid®, HEAT®, Cattleman's Blend™, VitaFerm 30-13% Protein Tub, Roughage Fortifier® and Sure Start® Pellet. For more information about Feed the Future, contact your local VitaFerm dealer or your Area Sales Manager, found here: https://biozymeinc.com