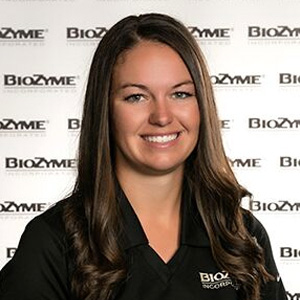 Lynsey Whitacre, Ph.D., and Companion Animal Business Development and Field Support for BioZyme® Inc., was recently recognized as one of the "30 Under 30" Young Leaders for her outstanding leadership contributions in the production of animal or poultry feed by the International Production and Processing Expo (IPPE). Whitacre has been on staff with BioZyme since 2017, upon completing her doctorate in Biological Information Sciences at the University of Missouri.
The IPPE "30 Under 30" Young Leaders is a way to recognize professional leadership qualities and to provide exposure to the world's largest trade show involving the production and processing of meat and poultry products and the manufacturers of feed and pet food products, according to the IPPE website. The program not only exposes these young leaders to the latest technology, but also allows them to attend valuable educational programs to assist in their leadership development. Whitacre attended the IPPE event and received recognition during a special ceremony the last week of January.
"We are extremely proud of Dr. Lynsey Whitacre's selection to the International Production and Processing Expo 30 Under 30 Young Leaders Program. It has been amazing to watch Lynsey's growth since joining BioZyme in 2017.  She is highly respected and well-liked by her peers as she easily moves back and forth between science (research) and technical support (sales and marketing). Lynsey is an accomplished equine rider in jumping events and has a sincere passion for the companion animals she rides, hugs and pets. She is a devoted worker that uses her scientific training and experience to develop and promote new ideas to enhance animal well-being and performance. She is very deserving of the 30 Under 30 recognition," said Bob Norton, BioZyme Chief Executive Officer.
Whitacre initially worked with BioZyme to expand its equine sales. Shortly after that, she started helping the company with its marketing efforts to the canine audience. She also assumed research project management in 2018 and new product development in 2019. As a result, she is now involved in all research and all products for all species.
"To be able to get an opportunity like this is really beneficial because you get to make connections to people who are working alongside you toward similar goals of improving animal health, production and sustainability, but using different techniques and technologies. The work that we are doing collectively as an industry is going to be very impactful both domestically and globally," Whitacre said. "As a group, we can clearly see where the future of the feed industry will lead us, and we have the responsibility of creating precise, innovative solutions to today's challenges, like antibiotic use for example. It's a good feeling because together I think we can make a really big difference, not only in the lives and health of animals, but in the lives and health of humans as well."
The IPPE "30 Under 30" is sponsored by the American Feed Industry Association (AFIA), the North American Meat Institute (NAMI) and U.S. Poultry & Egg Association (USPOULTRY).