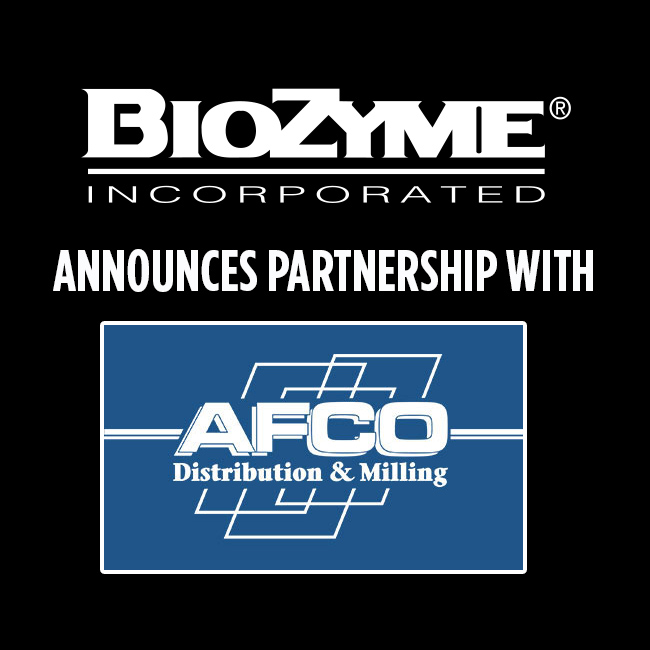 BioZyme® Inc., with global headquarters in Saint Joseph, Missouri, is pleased to announce that AFCO Distribution & Milling is its newest distributor. In business more than 30 years, AFCO is based out of Spokane Valley, Washington.
"These are very exciting times for BioZyme to have a quality distributor in the Pacific Northwest to provide service to our dealers," said Alan Lee, Director of Domestic Business Development. "AFCO has an excellent reputation, eager sales team and a great fleet of trucks to further distribute the BioZyme family of brands to more animals."
BioZyme has been expanding its distribution during the past several years to increase access to its products across the U.S. and provide easier logistics to its dealers. Adding a distributor in the northwest will allow more customers access to the BioZyme family of brands, including VitaFerm®, Vitalize®, Sure Champ®, DuraFerm®, Vita Charge®, Gain Smart® and Backyard Boost®.
"I am pleased to be able to offer producers and retailers in the Pacific Northwest the opportunity to have access to the BioZyme portfolio of products that are driven by research and innovation and at the same time giving back through programs supporting the future of agriculture," said Mike Allway, AFCO Category Manager for Farm, Ag & Wildlife.
AFCO serves more than 400 feed and pet supply retailers in Washington, Oregon, Idaho, Montana, Nevada, Utah, Wyoming and Alaska.
"Added distribution in this specific geography will assist BioZyme in meeting its goals, while providing care that comes full circle to more people and more animals. We couldn't be more thrilled about this opportunity," Lee said.
To learn more about the BioZyme products or to find a dealer in the Pacific Northwest, visit Dealer Locator.