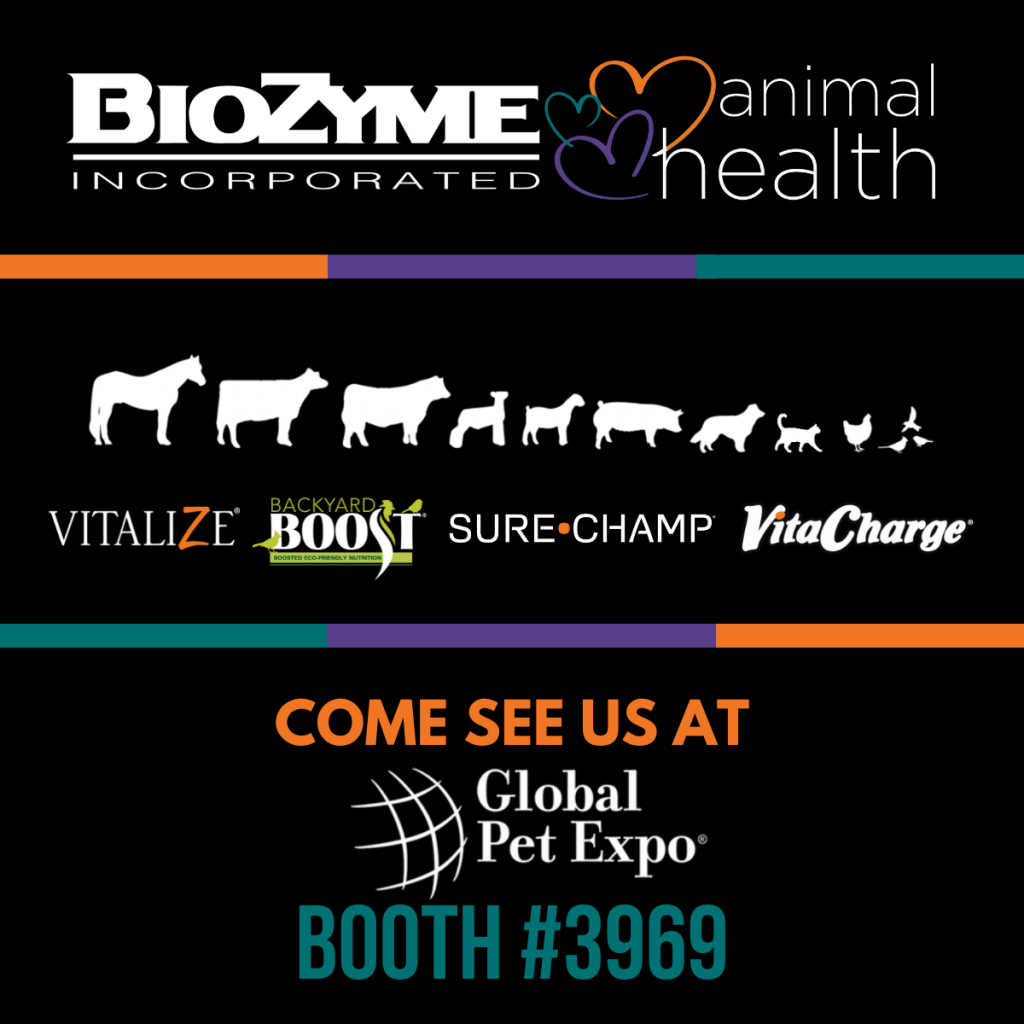 BioZyme® Inc. is excited to showcase several of its brands of animal health and nutrition products at the 2023 Global Pet Expo in Orlando, Florida, this week. The BioZyme family of brands offers something for everyone from the dog and cat enthusiasts to retail outlets and distributors that specialize in horses, poultry and even small ruminants like sheep and goats.
"We are thrilled to exhibit at Global Pet Expo for the first time this year and be able to share our products that help keep animals healthy and performing from the inside out," said Hayley Keck, BioZyme Senior Brand Manager. "What makes our products unique is our proprietary ingredients – AO-Biotics® Amaferm®, our own prebiotic research-proven to enhance digestibility, and MHB3® Hyaluronan, a multi-patented, high molecular weight hyaluronic acid that is research-proven to be bioavailable and efficacious for hip and joint health."
BioZyme will be located in Booth #3969 near the New Product Showcase. The BioZyme family of brands will be exhibiting as Vitalize® for horses, dogs and cats, Backyard Boost® for backyard chickens and songbirds, and Vita Charge® and Sure Champ® for sheep, goats, cattle and pigs.
"We have something for nearly every specie, and we want dealers and distributors to know that our company truly does believe in care that comes full circle, for everything you care about. We are excited to welcome some new joint health products into the Vitalize line – Vitalize Trixsyn® and Vitalize Hyaluronex® will officially be introduced into the Vitalize brand at Global Pet Expo," Keck said.
In addition, some other new exciting announcements are going to be made in Orlando, relating to the Backyard Boost brand and one of its product enhancements that will include the first-and-only postbiotic specifically produced for layers. Be sure to stop by the BioZyme booth, #3969, talk to the BioZyme experts about adding these products to your line up and register to win daily prizes.