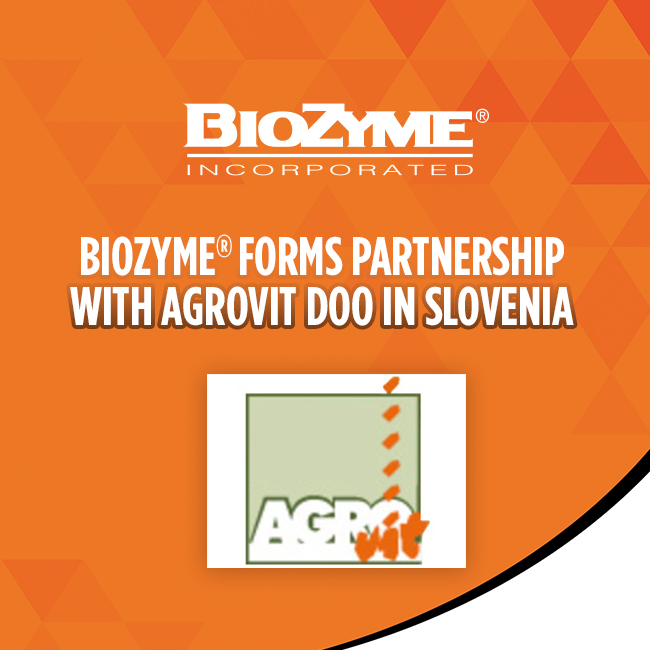 Earlier this year, BioZyme® Inc., created a partnership with AGROVIT d.o.o., a reputable specialist known for feed additives in Slovenia. Agrovit was founded nearly 30 years ago in Ptuj, Slovenia.
"We are very pleased to have a collaborator in Slovenia to help distribute our AO-Biotics® portfolio and spread their value in this country," said Dr. Peter Windhausen, BioZyme Business Development Manager.
AO-Biotics® is a line of fermentation products derived from BioZyme's innovative fermentation of Aspergillus oryzae (AO) to promote resilience. AO-Biotics® Amaferm® is a prebiotic research-proven to enhance digestibility. It has more than 111 published and/or presented research studies proving its increase in digestibility and ultimately its impact on the animals.
"AO-Biotics Amaferm is a great chance for the livestock producers in our country to increase productivity in a sustainable way," said Miro Ljubec, owner of Agrovit d.o.o.
AO-Biotics® EQE is the first-and-only postbiotic developed specifically for layers. It is research-proven to produce more sellable eggs, improve egg mass and increase productive life span. The AO-Biotics portfolio is built on BioZyme's 70 years of Aspergillus oryzae (AO) fermentation expertise to offer products that enhance animal health, welfare and productivity.
"We are looking forward to exploring the possibilities for this innovative product in our market. It is amazing to see how much technical expertise and research BioZyme is doing, and we will surely profit from it," added Ljubec.
BioZyme, a global company, has been in business for 70 years. With headquarters in St. Joseph, Missouri, USA, the company reaches a market of customers throughout the U.S., Canada, South America, Asia, Europe, Africa, and the Indian Subcontinent.