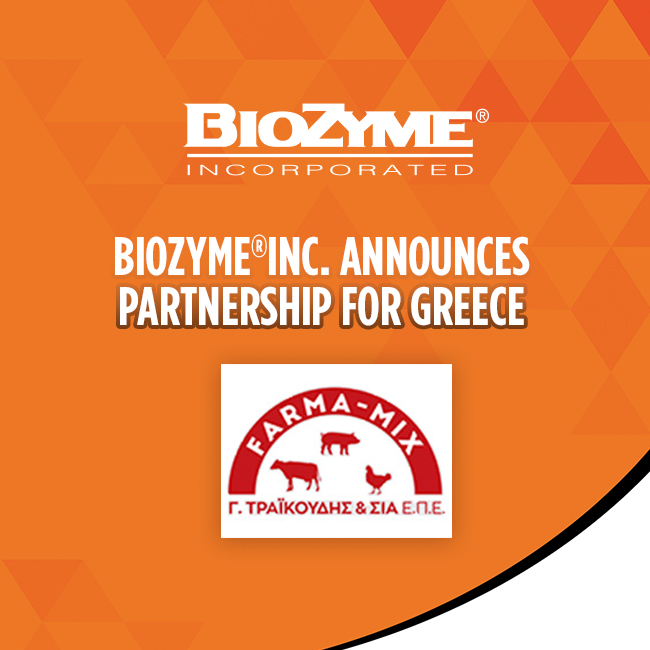 BioZyme® Inc. announces one of its newest international partners, the Greece-based company G. Traikoudis & Co. Ltd. They will serve as a marketing partner, helping to provide the AO-Biotics® portfolio to its customers in Greece. Founded in 2005 in Thessaloniki, G. Traikoudis & Co. is well known for producing premixes and trading feed additives.
"We are excited to have a partner in this region of Europe to help broaden our scope of our AO-Biotic additives," said Volker Altenbokum, BioZyme Director of International Business Development. "George Traikoudis, the company's founder and CEO, is a leader in high quality and sustainable agricultural products and shares many of the same values as we at BioZyme do."
Through its presence in the feed and premix market for ruminants, including small ruminants, and also in the one for poultry in particular for layers, G. Traikoudis has all requirements to bring AO-Biotics® Amaferm® and EQE to the animals in Greece.
AO-Biotics® is a line of fermentation products derived from BioZyme's innovative fermentation of Aspergillus oryzae (AO) to promote resilience. It is built on BioZyme's 70 years of AO fermentation expertise to offer products that enhance animal health, welfare and productivity.
AO-Biotics® Amaferm® is a prebiotic research-proven to enhance digestibility. AO-Biotics® EQE is the first-and-only postbiotic developed specifically for layers. It is research-proven to produce more sellable eggs, improve egg mass and increase productive life span.
"We are very excited to work with BioZyme Inc., which has a long history as a global leader of functional feed additives. We would like to learn and grow together with BioZyme," said Christos Traikoudis, managing member of the company.
BioZyme, a global company, has been in business for 70 years. With headquarters in St. Joseph, Missouri, USA, the company reaches a market of customers throughout the U.S., Canada, South America, Asia, Europe, Africa, and the Indian Subcontinent.