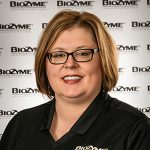 BioZyme® Inc. has hired Shelia Grobosky as its Public Relations Coordinator. Grobosky joins the Marketing Team after having worked with the company on a contractual basis.
As the PR Coordinator, Grobosky will work to promote BioZyme and all its brands through editorial placement, media relations and product integration. She will work closely with others on the Marketing Team to ensure that PR efforts are helping to drive traffic to social sites, generating brand awareness, and supporting the company's goals.
"After working with Shelia for more than a year on a contractual basis, we are ecstatic to welcome her to the BioZyme Marketing Team full-time," said Jackie Lackey, BioZyme Director of Strategic Marketing. "As a strong advocate for agriculture, the company and our products, Shelia works hard both as a writer and PR specialist to position BioZyme within the animal health and nutrition industry and with consumers. BioZyme is a fast-growing, high-performing company with a big story to tell. Shelia has met that challenge head on and brings an extremely professional and positive approach to every story, relationship and opportunity we have."
Grobosky has 20 years of agricultural communications and event planning experience. She most recently has worked as a freelance writer and PR specialist. Prior to that she was the Director of Industry Programs for the Illinois Beef Association. She spent 15 years at the American Angus Association where she served as both the Director of Communication and Director of Activities and Events. She has a degree in Agricultural Journalism with a minor in Animal Science from Kansas State University.
"I am excited to join the BioZyme team on a full-time basis," Grobosky said. "Their continual growth is indicative of the success of the company, but just as important are the people and the products that make up the company. BioZyme develops products that focus on the health and well-being of animals, but they also emphasize developing leaders in the agricultural industry."
Grobosky is based in Alexis, Ill., where she lives with husband StanLee and daughter Lily. She enjoys traveling, photography, cooking and attending livestock shows.
BioZyme's supplement brands include VitaFerm®, Sure Champ®, Vita Charge®, DuraFerm® and Vitalize®.