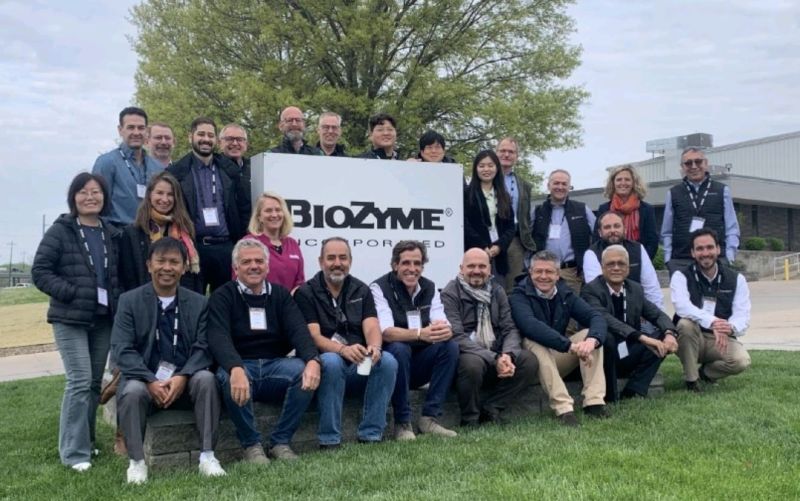 BioZyme® Inc. conducted its fourth International Partner's Meeting (IPM) on April 27-28, 2023, hosting distribution partners representing 26 countries. The IPM is an effort to share BioZyme's core values of research, innovation and inspiration, all integral parts of providing care that comes full circle for the global animal health company based in Saint Joseph, Missouri. This is the first IPM that has been possible since 2019.
Volker Altenbokum, Director of BioZyme International Business Development, said all partners in attendance were very excited about the 2022 launch of AO-Biotics® EQE, the first and only postbiotic developed specifically for layers.
"Everybody acknowledges the unique offering we have and the opportunities that come with it. Furthermore, our reaction to global economic pressure on farmers, and our focus on reducing feeding costs through the use of Amaferm® is exciting for our partners and their customers," he said.
The two-day event allowed information exchange, both between the BioZyme staff and the distribution partners and among one another.
"We believe in interaction and exchange of information. Each of our partners has something unique to report, but there are a lot of things in common. Learning from each other is the most important, but as well seeing that topics are not so different when you look at other markets, is enlightening. The IPM is a platform to foster discussions, listen to our partners and learn from them. Having so many countries represented gives us nice feedback on how we are doing and what we can improve," he said. "Getting to know each other better, seeing the commitment everybody has and having a good time together is the best."
With world headquarters in Saint Joseph, Missouri, USA, BioZyme products including AO-Biotics® Amferm® and AO-Biotics® EQE can be found around the globe including 40 countries. AO-Biotics® is a line of fermentation products derived from BioZyme's innovative fermentation of Aspergillus oryzae (AO). To learn more, visit: https://biozymeinc.com/additive/.