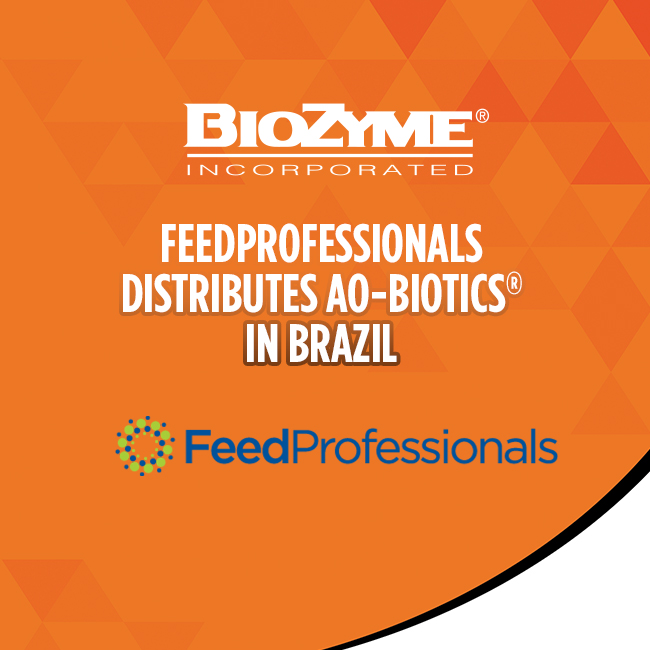 BioZyme® Inc. is pleased to announce that FeedProfessionals now distributes AO-Biotics® products. The distribution agreement allows FeedProfessionals to deliver AO-Biotics® Amaferm® and AO-Biotics® EQE in the largest country of South America, Brazil.
FeedProfessionals
FeedProfessionals was founded in 2016 by a team with more than 20 years of experience in the Latin American animal nutrition market. Their goal is to leverage their knowledge and experience to improve animal health and nutrition. They work to find international partners who supply feed safety additives that they can distribute through Latin America.
"We are very happy to include FeedProfessionals as our distribution partner. Their team shares the same passion to provide care that comes full circle to food animals. They can achieve that with our AO-Biotics products," said Fernando Bargo, Ph.D., BioZyme Business Development and Innovation Manager.
The Impact of AO-Biotics ®
AO-Biotics® Amaferm® is a prebiotic research-proven to enhance digestibility. Amaferm is a product of the AO-Biotics® portfolio, a line of fermentation products derived from BioZyme's innovative fermentation of Aspergillus oryzae (AO) to promote resilience. It is built on BioZyme's 70 years of Aspergillus oryzae fermentation expertise to offer products that enhance animal health, welfare and productivity.
AO-Biotics® EQE is the first-and-only AO postbiotic developed specifically for layers. It is research-proven to produce more sellable eggs, improve egg mass and increase productive life span.
Turn To FeedProfessionals and BioZyme
BioZyme, a global company, has been in business for more than 70 years. With headquarters in St. Joseph, Missouri, USA, the company reaches a market of customers throughout the U.S., Canada, South America, Asia, Europe, Middle East, Africa, and the Indian Subcontinent.
Click for more information about , or to learn AO-Biotics.
###