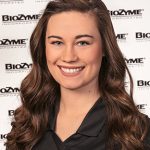 Hayley Keck, Topeka, Kan., has been hired as the Vitalize® Marketing Intern for BioZyme® Inc.
Keck is a December 2017 graduate of Kansas State University with a bachelor's degree in Animal Sciences & Industry with a business emphasis. She helped establish the KSU Intercollegiate Horse Show Association Club Team after K-State eliminated the equestrian team from its roster of NCAA Women's sports. She has been competing in the sport of hunter jumper since she was 6-years-old.
"Hayley's passion for both equestrian sports and equine nutrition is contagious. Because of her of involvement at a competitive level, Hayley understands effective product positioning in the field and will help our marketing efforts to continue to differentiate the Vitalize product line," said Jackie Lackey, Director of Strategic Marketing for BioZyme Inc.
As the Vitalize intern, Keck will work closely with the marketing team to assist with the creation and implementation of marketing strategies within the performance, rodeo and hunter jumper disciplines. She will focus her efforts on growing market share of the equine line of supplements through social media and in-person strategies.
"I am very passionate about the equine industry and am excited to learn more about BioZyme and Vitalize while sharpening my marketing skills. This is an exciting experience for me to gain some real-world experiences working in an industry that I love."
Vitalize is line of nutritional supplements that enhance the digestive health of horses. Vitalize contains Amaferm®, a natural feed additive that works as a prebiotic to maximize the nutritional value of feed.