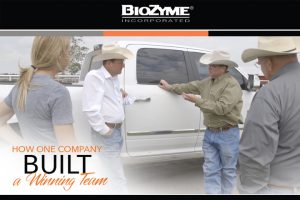 "Talent wins games but teamwork wins championships." ~Michael Jordan.
When you think of a successful team, you probably think of a group of people with a similar background who come together on a regular basis to achieve a common goal. And while that might be true on the basketball court or football field, the sales team at BioZyme® Inc., has redefined the way a successful team works at building a business.
The animal nutrition company based in Saint Joseph, Mo., relies on a talented staff of Area Sales Managers spread across the country to help promote and market its products and work directly with an extensive dealer network. ASMs log thousands of miles each year to educate producers about the numerous product lines, many of which they have fed themselves and have personal experiences with.
But with nearly 20 ASMs scattered across the United States, this is one team that doesn't get to physically work together to pull from each other's strengths. They rely on phone, text messaging and email to communicate and see each other only a handful of times each year. Some of them have been part of the team for barely a year, and the veterans have been on the team longer than some of the "newbies" are old. But they share a passion – a passion for the products they represent and a passion for the people that they are working with, both customers and their fellow BioZyme employees.
"Our entire sales team is motivated," said Jake Warntjes, who joined BioZyme in 2017 and covers Western Kansas, Western Oklahoma and Eastern Colorado. "The way our entire company is motivated, motivates me, from Lisa (Norton) to the people in the plant to the sales team. It is hard to go to a company meeting, and not come out motivated."
Helping Others
The ASMs agree that they enjoy helping livestock producers reach their goals after using BioZyme products. Richard Moats, ASM for Montana and North Dakota joined BioZyme in May 2017, but has been selling livestock nutrition products most of his adult life.
"I've never sold anything to anybody who didn't need it," Moats said. "I have never asked anybody to buy something that was going to cost them more than it was going to return, and in all these years, I have been in business, it has always paid dividends to be honest and forthright with people."
Lindsey Grimes-Hall has been with the company since 2015 and represents Ohio, Indiana and West Virginia. The Grimes family has used the BioZyme products on its cattle operation for at least 15 years, and it is easy for her to share how the various products have helped their program succeed.
"If I can help someone be more profitable or help their herd be more productive, that is a good day," Grimes-Hall said. "We are helping people take care of their animals every day to make sure they are healthy, and healthy animals are important to me and livestock producers everywhere."
Dave Gallagher is the veteran ASM, with 38 years of service to BioZyme. The Missouri native works his home state, and said he learned early on to be honest with people and tell them you will work to find the answers to any questions you are unsure of.
"That builds trust. Integrity takes time to build, but it only takes a second to lose it if you are dishonest," Gallagher said. "I enjoy helping people and want to help them every day. If I can get them on our products and help them improve their bottom line, I'm helping them meet their goals."
Background in the Business
Not every ASM sought out to go into a career in sales or thought they would work for an animal nutrition company, but for some, it is in their family heritage.
Jay Willingham lives in Milano, Texas, and has spent his career in ag sales. Prior to joining the BioZyme team in 2012, he was a Top 100 Sales Manager for Moorman's and ADM and worked for them 23 years. His dad retired from Moorman's with 29 years of service, and the Willingham family has a legacy in ag sales in Central and East Texas.
Taylor Ruether, who travels Nebraska, also grew up watching her parents' involvement in the animal nutrition business. Her dad managed a Co-op, and her mom worked for a feed company. It was natural for Ruether to work for a feed company, which is what she did before joining BioZyme in 2017. In addition to selling the products, she enjoys helping her dealers create unique marketing projects to reach new potential customers.
Having a Voice
Several of the ASMs had worked for larger corporations before joining the employee-owned BioZyme. After leaving the corporate world, they appreciate the closeness of this growing company, where everyone gets to voice and share their thoughts on monthly conference calls or even by picking up the phone and calling the company's leadership.
"I love the size of the company. Our boss cares enough that she knows us personally, and we feel like we can reach out to her," Ruether said.
"We are a smaller company that does a lot of really big things, and our voice can be heard within the company," said Trent Gabler, who has been with the company for two years. "Having worked in a large, corporate setting I value that quite a bit."
Gabler, who travels Iowa and parts of Minnesota and Wisconsin, covers a very diverse area with all species represented, and often provides input on what is on the minds of his customers. He enjoys being a resource for his customers.
John Jeffrey, also left the corporate world to join the team in 2015. He travels Eastern Kansas and Oklahoma and said the family atmosphere of a smaller company is what initially attracted him to BioZyme.
"It's a small company where everybody is like a family. The employees are owners in it, and that gives you more incentive in that what you do every day actually matters.  Everyone you work with matters, and the better everybody does, the better off everyone will be when they are ready to retire. At BioZyme, they really practice doing the right thing, by taking care of others. When you take care of others you are rewarded," Jeffrey said.
"It has a small-company feel, but we are able to do bigger things for our customers. We are impactful in the livestock world," Willingham agreed.
Family Values
Every ASM agrees that their team isn't just a team of sales staff, but a family, and that includes everyone in the company.
"These are the best people I have ever worked for," said Shandy Bertolino. "It feels more like a family than a job. They provide the tools and support to do our job. My co-workers make it pretty awesome. We have a huge variety of people with different talents in different areas and everyone put together makes and awesome team who is super supportive of each other."
Bertolino joined the team in 2014 and travels in Illinois. She said she strives every day to show her own kids that you can be a great parent and have a great career simultaneously. And that being a mom does sometimes offer her fresh perspective at work.
"It's not a career for me. It's a lifestyle," she said.
"The best thing about working here is the lifestyle," said Chris Kyle, who covers Arkansas, Louisiana and Northeast Texas. "I like this way of life and the people involved in it. It is a fun job because you meet a lot of people, but I don't consider it work because you get to visit with people you'd want to visit with anyway."
Gallagher, who said he could have retired two years ago agrees.
"I consider the people at BioZyme my family. I was fortunate enough that I took a job with VitaFerm® all those years ago and stuck with it. It is an excellent environment. Customers have become friends. I would miss them all if I retired today," he said.
It takes a teamwork to build championships. At BioZyme, the leadership has comprised a team to champion their products, with the goals of championing producers to meet their goals.
To learn more about these and others on the BioZyme team, visit: https://biozymeinc.com/our-staff.