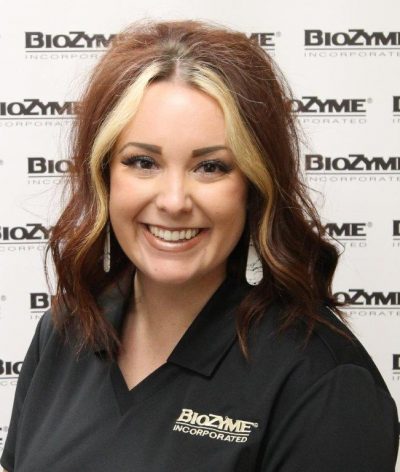 Morgan Weinrich, Denver, Colorado, is the new Area Sales Manager for BioZyme® Inc., in Colorado, Wyoming and Utah. As an ASM, Weinrich will work to develop new dealerships and build upon current dealer and customer relationships while promoting BioZyme's numerous product lines throughout the West.
"I've heard great things about BioZyme's culture, and after just a week of training, I can feel and see how passionate everyone is about the company and their roles," Weinrich said.
Weinrich brings a diversified livestock background and professional experience to her new role. The Colorado native was raised in Yuma, where she was heavily involved in 4-H and FFA, showing market sheep competitively on a national level. These programs developed her passion for hard work, dedication and responsibility. With help from some industry professionals, she was competitive in the show ring. Some highlights include Colorado State Fair Reserve Champion Lamb, AKSARBEN Champion Division 1 and Reserve Division 2 and National Western Stock Show Reserve Lightweight Lamb. She earned a bachelor's degree from Colorado State University in Animal Science with a minor in Agricultural Literacy. During her tenure at CSU, she was a competitive member of the livestock judging team.
"Morgan has the personality and work ethic that I look for when adding people to the BioZyme Team. Morgan's work ethic is invigorating, and she will go above and beyond to help the people in her territory. She has experience in multiple species of livestock and has a huge desire to help people as well as the four-legged friends. We are extremely pleased that Morgan has joined the BioZyme family," said Alan Lee, BioZyme Director of Domestic Business Development.
Weinrich plans to use her past experiences in customer service and the livestock business, along with her extensive network to help build the BioZyme business, especially where distribution partners are needed in areas where products cannot be readily secured. She is excited to meet new people and work with established dealers.
When she isn't working, Weinrich enjoys playing golf. She and her family also continue to attend livestock shows and mentor a few show families with their sheep projects.