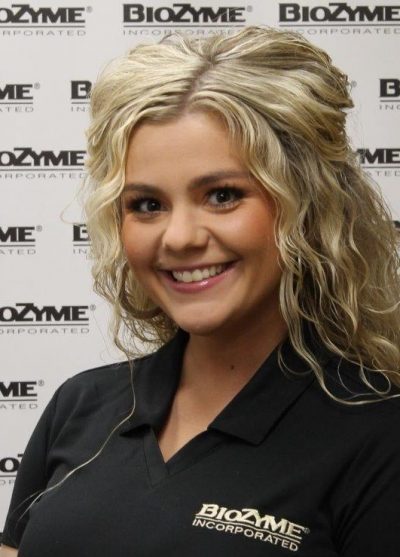 Kylie Patterson has been named the new Area Sales Manager for the state of Missouri. As an ASM, she will work to develop new dealerships and build upon current dealer and customer relationships while promoting BioZyme's numerous product lines. She replaces Dave Gallagher, who will retire December 31, after nearly 42 years with the company.
"I feel like BioZyme truly supports not only youth in agriculture, but also livestock producers. The company's core values are well aligned with mine," Patterson said.
Patterson brings a diverse livestock background to her new role. She grew up near San Antonio, Texas, raising and showing Brahman cattle. She attended both Blinn College and Oklahoma State University, where she won high individual in both the junior and senior college national livestock judging contests at the North American. She earned a bachelor's degree in Animal Science from Oklahoma State and has been pursuing a master's degree at Texas A&M while assisting with a successful livestock judging program.
"Kylie brings an energetic livestock background and network that she has gained through her time at OSU and Texas A&M. She is very willing to assist our current customer base as well as establish new ones and will be very good at the education of our product offering. Being named high individual at the North American during her judging career proves that she is a solid thinker and has the ability to make good decisions. We are very excited that she has joined the BioZyme Team," said Alan Lee, BioZyme Director of Domestic Business Development.
Patterson is excited to establish relationships in her new territory. She will relocate from Texas to Columbia, Missouri. She enjoys anything with livestock and her dog Maverick.