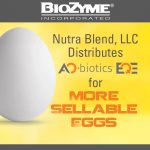 BioZyme® Inc., is excited to announce that Nutra Blend LLC, with headquarters in Neosho, Missouri, has been tapped to be the first U.S. distributor for AO-Biotics® EQE. AO-Biotics EQE is the first and only postbiotic developed specifically for layers and utilizes patent pending technology.
This innovative additive has been proven to enhance egg quality and egg production through both university research and field trials. On average, including EQE in the diet throughout the production cycle has been shown to increase the number of sellable eggs per hen and egg mass by approximately 3%. Results also show an approximate 3% improvement in egg production and a remarkable 20-25% reduction in mortality.
After two years of research, BioZyme launched the AO-Biotics EQE earlier in 2023 to its international market. It was then introduced domestically during the International Production & Processing Expo (IPPE) in Atlanta. In the United States, the additive can now be purchased through Nutra Blend and added directly to feeds for both commercial and backyard chickens.
"In my 11 years at BioZyme, this is the most exciting launch we have had. It is so energizing to grow our additive portfolio with a research-proven product that fits a specific need that is both timely and vitally important to the industry," said Alan Lee, Director of Domestic Business Development. "The response to the launch at IPPE was incredible, and we are excited that EQE can fulfill a need and help us continue to mission to provide care that comes full circle."
AO-Biotics EQE is built on BioZyme's 70 years of Aspergillus oryzae (AO) fermentation expertise to offer products that enhance animal health, welfare and productivity. It is the second in the AO-Biotics line, which also includes the research-proven prebiotic AO-Biotics® Amaferm®. EQE is also licensed and distributed in nine other countries.
To learn more about AO-Biotics EQE and the technology behind it, visit biozymeinc.com/additive/eqe.