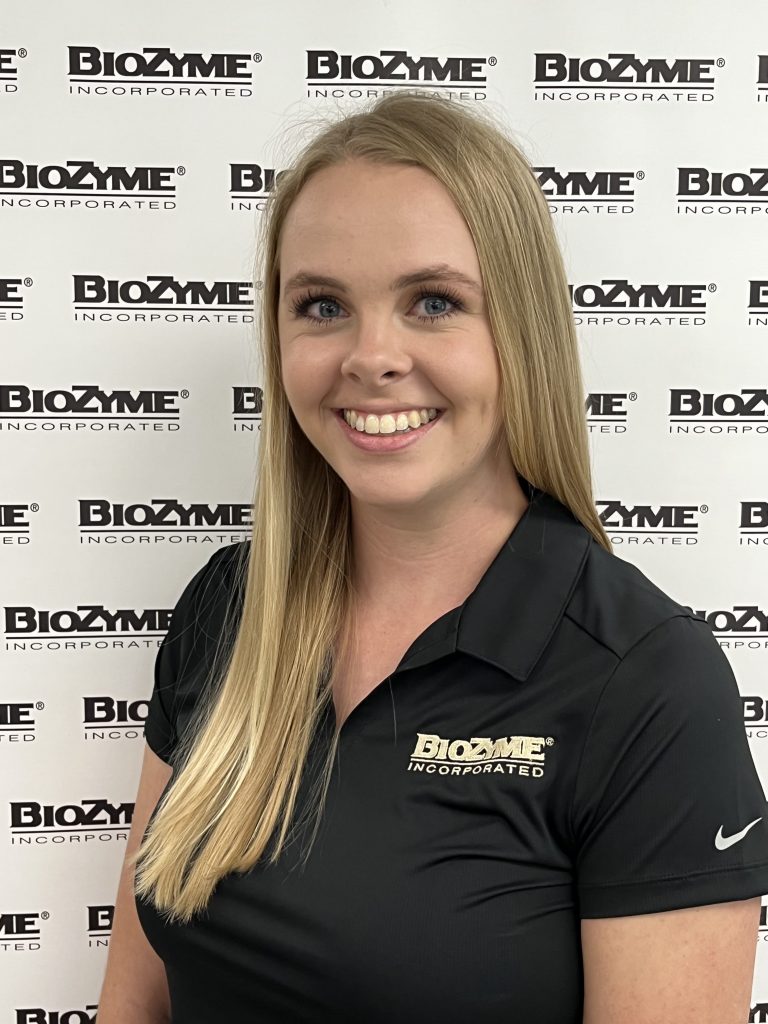 Alison Brunner is the new Area Sales Manager (ASM) in the state of Missouri for BioZyme® Inc. In her role, she will work with the dealer network to promote the BioZyme product lines and educate dealers and customers about the BioZyme brands.
Brunner brings a strong animal health and nutrition background to her new career position, as well as a passion for animals. She is a graduate of Kansas State University with a bachelor's degree in Animal Science & Industry with a Business Option and an Equine Certificate. The Wisconsin native has been riding horses since she was 5 years old and was recruited to ride and compete on the K-State Equestrian Team, which she did until its disbandment her senior year. She spent four years working as an Equine Field Vet Assistant at K-State Vet Med and most recently worked in the pet food industry.
"I have used the Vitalize® products on my own horses for years, including Vitalize® Alimend ® and Vitalize® Equine Gel. I know the products work well, so I was excited to find a position within the company where I can build relationships with the dealers and customers while helping animals maximize their performance," Brunner said.
She will travel the state of Missouri, from her home in Overland Park, Kansas, and work closely with dealers to keep them keep current on product offerings and help them educate their customers on the best way to use the BioZyme products.
"We are extremely excited to have Alison join the BioZyme family. She brings a measure of diversity to the TEAM in Missouri that will be a welcome addition. I feel that Alison will be able to effectively bring value to our dealers, focusing on customer service and brand awareness. Her drive and determination will be evident once you meet her," said Bob Burkham, BioZyme National Manager of Supplement Sales.
Brunner continues to have a passion for riding and prefers hunter jumper but has started to learn other disciplines from friends including roping and reining. Once she gets acquainted with her territory and has the time, she hopes to get back to riding again. She is also a self-proclaimed "over the top dog mom" to a blue heeler, Duke.
BioZyme, with world headquarters in Saint Joseph, Missouri, is known for its supplement brands VitaFerm®, Sure Champ®, Vita Charge®, DuraFerm®, Vitalize® and Backyard Boost®. The company also manufactures and markets Amaferm®, the key additive in all its supplements. For a list of BioZyme Area Sales Managers, visit https://biozymeinc.com/our-staff.