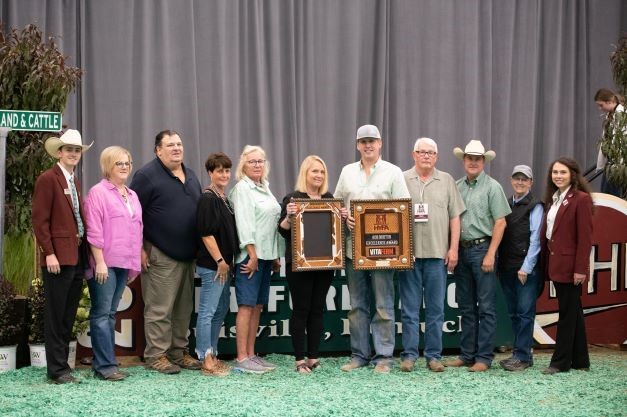 It's often said the people we meet and the relationships we form are the most important part of the livestock industry. For a former chairman of the National Junior Hereford Board, Cody Jensen, those words couldn't be truer. He is the inaugural Bob Norton Excellence Award winner, and the relationship he forged with Norton makes the award even more special.
"It was quite the shock when I heard my name. There is such a diverse group of people on the HYFA Board, and that they chose me to receive this honor means a lot," Jensen said.
The Hereford Youth Foundation of America (HYFA) established the award to honor former member Bob Norton, the long-time youth supporter and BioZyme® CEO who passed away unexpectedly in the spring. The Bob Norton Excellence Award recognizes a former NJHA member who demonstrates the work ethic of Bob, along with his zest for life and dedication to youth programs. Bob and Lisa Norton and the BioZyme family have been long-time supporters of the NJHA and other youth organizations.
"Bob and I have always believed that if our country and business leaders were raised in agriculture, our country and economy would be in the best possible shape it could be – fair, safe and prospering. Investing in this next generation is easy to justify and has a huge return," said Lisa Norton, BioZyme President. "When I heard about the amazing gift the HYFA Board created in Bob's honor I could not imagine how they would select a recipient. When I was told it was Cody, it was just perfect."
While immersed in the programs of NJHA and serving his tenure on the NJHA Board, Cody met Bob who was highly engaged and encouraging. He said Bob would speak to the juniors, talk to the Board during its meetings in Kansas City, and the Nortons would invite the group to their home for dinner. Cody started having more in-depth, meaningful conversations with Bob as he pursued his degree in Feed Science and Management at Kansas State University. As graduation approached, Cody interviewed for a position at the BioZyme headquarters in St. Joseph, Missouri.
"Even with several job offers, after I talked to the director of operations at the time, a career at BioZyme just seemed like the best fit for me. I was still on the Junior Board, and there was opportunity for me to grow and learn," said Jensen, now the Senior Manager of Blending.
"I remember the day Bob called me right after they hired Cody and how excited he was to hire a young man he had met through our partnership with BioZyme," said Amy Cowan, Director of Youth Activities and Foundation for the American Hereford Association (AHA). "Bob and I talked on several occasions about Cody, and I know how proud he was of his work ethic and his ability to lead the team there at the plant."
Jensen has been with BioZyme more than six years now and still remains involved with his family's Hereford operation, Jensen Brothers, in North Central Kansas. His younger sister shows cattle, and he gives back to the industry as much as he can, talking to youth and participating in industry panel discussions about leadership and career development – something Bob encouraged. He also follows another example he learned from Bob: being respectful to all and greeting everyone he meets regardless of who they are or what their title is.
"This is something I learned from watching Bob, and it is something I always try to do. It doesn't matter who you are in our company, I always try to stop and say hello, and Bob did the same thing. It doesn't matter if you are the janitor or in management, everyone contributes to the team," Jensen recalls. "The same thing applies when I am at a show. A lot of people know who I am from being on the board, but I might not recognize them. I will always take time to stop and talk to them. That really makes a difference, and that is something Bob did."
Jensen has advanced at BioZyme, starting as Quality Assurance & Production Efficiency Coordinator, and now manages the team in the production plant. He also introduced the concept and helped develop Vita Charge® Climate Control Gel. Although his success is grounded in a work ethic and knowledge that he received prior to joining the BioZyme family, he's been given the opportunities to continue grow, part of the company culture that touts care that comes full circle.
"Bob and I were introduced to Cody through AHA. His experience on the Junior Board exemplified his exceptional work ethic, and we knew with that great foundation he would be a great fit for our company and our culture. He has been with us for six years now and is truly an integral part of our BioZyme family. Cody has really demonstrated great leadership using care that comes full circle in all he does. Bob was always proud of him, and today is no different," Lisa said.
The Bob Norton Excellence Award was presented prior to the Grand Champion Female selection at the VitaFerm Junior National Hereford Expo, July 29 in Louisville, Kentucky. The HYFA Board selected the recipient from a list of outstanding candidates who are early in their careers and exemplify the excellent traits of Bob Norton. To learn more about two organizations Bob was so passionate about, visit: www.biozymeinc.com or https://herefordyouthfoundation.org.