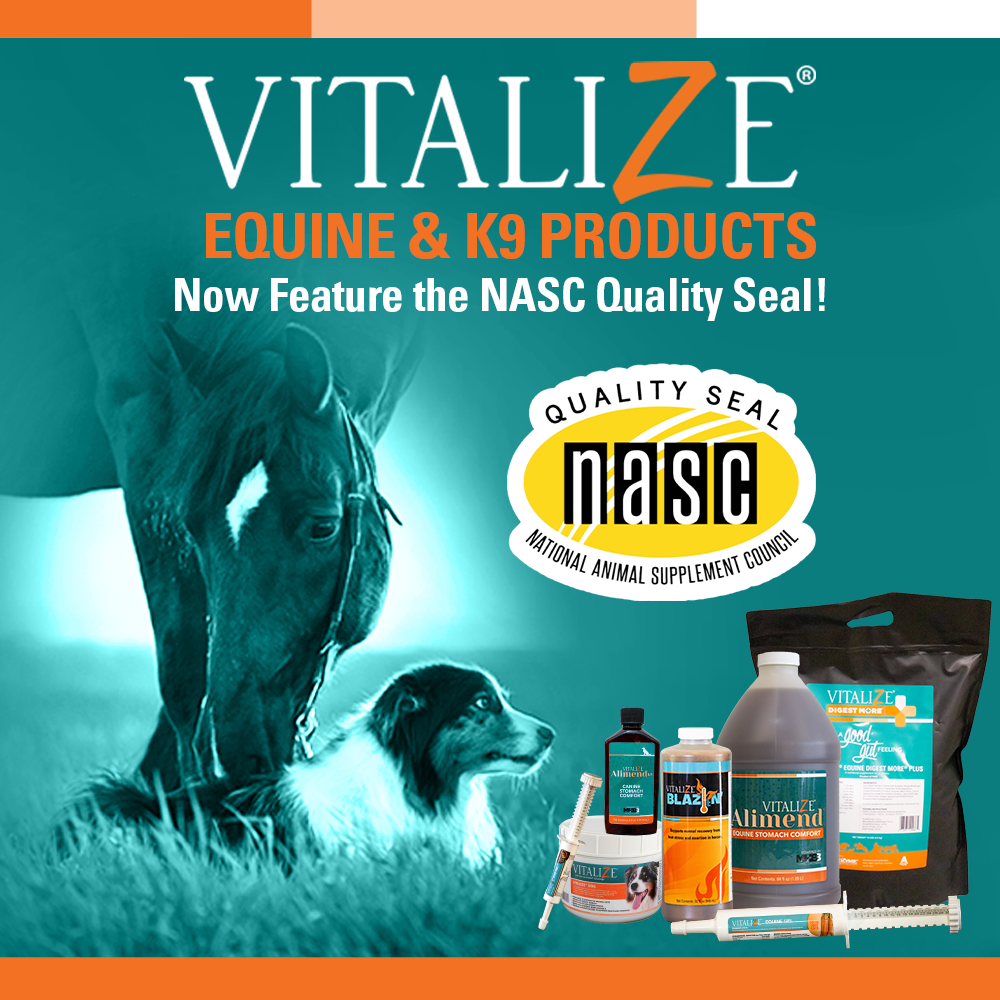 BioZyme® Incorporated and Cogent Solutions Group, a BioZyme company, have proudly joined the National Animal Supplement Council (NASC) and will now carry the NASC Quality Seal on products specifically designed for the equine and companion animal markets.
With the explosion of the companion animal supplement market in recent years, the NASC was developed to help consumers make informed decisions. The NASC works "to promote the health and wellbeing of companion animals and horses that are given animal health supplements by their owners and to protect and enhance the animal health supplement industry." BioZyme and Cogent Solutions Group are proud to have met all the criteria to become an approved member of the NASC and provide superior supplements for horses, dogs and cats under the Vitalize®, Hyaluronex® and Trixsyn® brands.
Companies that are members of the NASC must go through rigorous quality assurance audits, meaning they deliver the absolute highest-quality products available on the market. Along with demonstrating quality standards and cGMP compliance, all outward facing marketing material including the BioZyme and Cogent Solutions Group websites and language were reviewed, product labels were audited and updated, and all product ingredients were reviewed by the NASC scientific advisory committee. The last step was a third-party onsite audit of the companies' manufacturing facilities to ensure all quality standards were met or exceeded.
"The NASC seal signifies our commitment to quality, vigilance and continuous improvement to promote the well-being of companion animals and horses. We are doing our part to help elevate and standardize the animal health product and supplement industries," said Jill Vanover, Ph.D., Director of Cogent Solutions.
The NASC seal provides enhanced credibility and a differentiator in an increasingly competitive market.
"Customers can have confidence in our products with the NASC Quality Seal, knowing they come from responsible suppliers that meet NASC's demanding quality requirements. We ensure our products are consistently produced and controlled according to documented quality standards," Vanover said.
To learn more about the products that BioZyme and Cogent Solutions Group develop and manufacture to help your animals stay healthy, visit www.biozymeinc.com or www.cogentsolutionsgroup.com. To learn more about NASC and its members, visit www.nasc.cc.
###