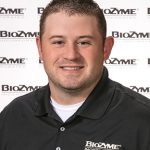 Ty McGuire, Eaton, Ohio, joins the BioZyme® staff as an Area Sales Manager. He represents Kentucky, Western Ohio and Michigan. In his role, he will work to develop new and build upon current dealer and customer relations while promoting BioZyme's many brands.
"I am excited to work with a company that produces high-quality products for livestock that help animals stay healthy and perform to their maximum potential," McGuire said. "I look forward to growing business, maintaining customer satisfaction and being an advocate for Amaferm®."
McGuire is an Ohio native, where he grew up on his family's commercial Angus and row crop operation. He earned a bachelor's degree in Animal Science from The Ohio State University, where he was on the livestock judging team.
McGuire spent 4 ½ years as herdsman at Elm Tree Farm, a registered Hereford farm, near Paris, Ky. He and his family continue to run some Hereford cattle. He also spent some time working in the dairy nutrition industry. He and his wife, Leanna, have a daughter, Klaycee, and are expecting a second child this fall. He maintains memberships in the Ohio Cattlemen's, Kentucky Cattlemen's and Kentucky Hereford associations.
"I am extremely excited about the addition of Ty McGuire to the BioZyme sales team. Ty has a big personality, with the drive to work hard and desire to learn about the products," said Mike Wadle, BioZyme Director of Sales – North.
As an ASM, McGuire will promote sales of BioZyme products and support the company's dealer network in his area. BioZyme's supplement brands include VitaFerm®, Sure Champ®, Gain Smart®, Vita Charge®, DuraFerm®, and Vitalize®. For a list of BioZyme Area Sales Managers, visit https://biozymeinc.com/our-staff/.