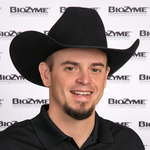 Sam Silvers, Junction, Texas, is the new National Small Ruminant and Show Livestock Business Development Manager for BioZyme® Inc. In his role, he will use his expertise to help grow the market share for the sheep, goat and show livestock product lines in the BioZyme family of brands. Silvers is no stranger to the BioZyme team, as he previously worked as an Area Sales Manager in West Texas for three years.
"I'm excited to return to BioZyme and promote brands and products I have a passion for, working specifically in the small ruminant and livestock sectors. I am looking forward to working with the team of folks that is in place and our dealer network to growing those sectors. I am eager to grow our product offerings in the future," Silvers said.
Silvers has an extensive background in the livestock industry, having raised sheep since he was 9 years old. He and his family continue to successfully raise show lambs as well as commercial sheep and goats. He earned his master's degree in Ag Science from Texas A&M, Kingsville. He received his bachelor's from Texas Tech and also attended South Plains Community College, where he participated on the livestock judging team.
Silvers has worked as a county extension agent, sold farm and ranch real estate and also sold livestock mortality insurance. He most recently worked as a territory sales manager for an animal nutrition company. He and his wife, Jurahee, have two children. In addition to spending time involved in the livestock industry and with his family, he enjoys hunting in his free time.
"I was thrilled to get Sam back on our team. His wealth of knowledge, especially in the sheep and goat industries is unmatched, and he will help take us to the next level. We know that his passion for and knowledge of show livestock is going to help our business grow. It's a great opportunity for both BioZyme and Sam," said Alan Lee, BioZyme Director of Domestic Sales.
Silvers will continue to work closely with the sales, marketing and product development teams to ensure that the DuraFerm® and Sure Champ® product lines are properly positioned. His passion for sheep, goats and show livestock will help ensure that these brands continue to grow in popularity.
Welcome to BioZyme
BioZyme is a global fermentation company with headquarters in Saint Joseph, Missouri, with a current focus on animal health and nutrition company. Its family of brands include VitaFerm®, Gain Smart®, Sure Champ®, Vita Charge®, DuraFerm®, Vitalize®, Backyard Boost® and AO-Biotics®. Click to visit any of the BioZyme Sales Team.
###