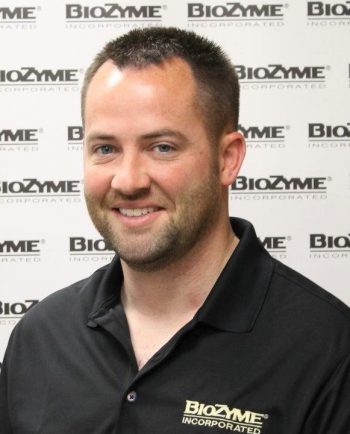 Chris Cassady, Ph.D., is the new Technical Sales Field Manager at BioZyme® Inc. In his role, he will help educate dealers, producers and the staff about nutritional needs as they relate to livestock to help make the customer more profitable.
Most recently, Cassady has spent the last 5 ½ years at Iowa State University, serving as an Assistant Teaching Professor and Livestock Judging Team Coach. He earned his doctorate in Animal Science at the University of Illinois. He previously attended Texas A&M University and Black Hawk East, where he was a member of successful livestock judging teams. Cassady grew up on an Angus seedstock operation in central Illinois and was a member of the National Junior Angus Board of Directors.
"I like to help people solve problems and am looking forward to taking my experiences and education to help producers solve their challenges to help them stay profitable in the livestock business," Cassady said. "I look at this as on opportunity to help with the nutritional needs of so many producers who are looking for answers."
Cassady will be able to provide valuable information about nutrition, reproduction and best management practices to the BioZyme customers, while helping the sales team conduct producer meetings and write educational articles.
"We are very fortunate to have someone of Chris's caliber to join our Business Development Team," said Alan Lee, Director of Domestic Business Development. "With Chris's knowledge of the cow-calf sector, educational background and conversational skills, he is going to be a tremendous asset to our customers and dealers."
Cassady is currently based out of his home office in Ankeny, Iowa, but plans to relocate to Illinois to be closer to his family and cow herd. He and his wife Katie, have two sons, Beau and Lincoln and are expecting a daughter in February. He enjoys spending time with his family, traveling, his Angus cows and cattle shows.
BioZyme, with world headquarters in Saint Joseph, Missouri, is known for its supplement brands VitaFerm®, Gain Smart®, Sure Champ®, Vita Charge®, DuraFerm®, Vitalize® and Backyard Boost®. The company also manufactures and markets Amaferm®, the key additive in all its supplements. For a list of BioZyme staff, visit https://biozymeinc.com/our-staff.