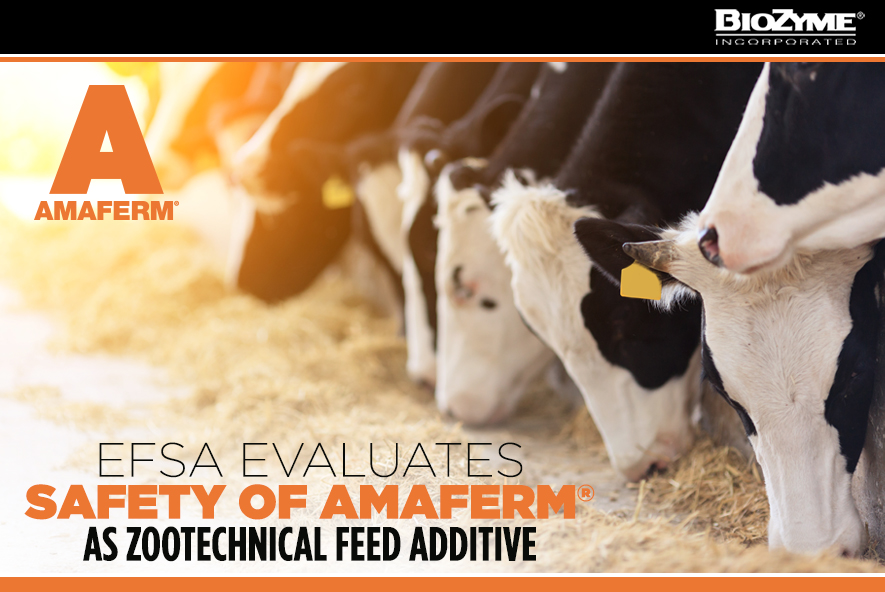 BioZyme® Inc., is proud to announce that the European Food Safety Agency (EFSA) has arrived at a positive opinion on the safety of Amaferm® as a zootechnical feed additive for dairy cows in the EU. This is the first and a very important step toward the reauthorization by the European Commission
"This reauthorization process started in 2016, demanding more than five years to accomplish the ever-increasing requirements of novel scientific data and carry out for-and-back discussions with EFSA representatives. We are grateful to all colleagues involved in the process, who greatly contributed to achieving this remarkable milestone," said Volker Altenbokum, BioZyme's Director of International Business Development.
Questions raised by EFSA were exclusively on the safety of Amaferm, which stemmed from advances in the field of food safety and analytical tools that today enable a better characterization of fermentation-based additives. The long-known, research-proven information about the efficacy, the mode of action and the benefits of Amaferm were never questioned.
Using genetic approaches, BioZyme has now clearly confirmed the identity of the fungal species used in the manufacturing of Amaferm as Aspergillus oryzae. Proudly, we can say, that Amaferm is the only fermentation product of Aspergillus oryzae registered as a zootechnical feed additive in the EU. We can also state, that in the case of products entailing fermentation with Aspergillus oryzae, BioZyme is currently the only company that fulfils the strict microbial identity and safety requirements set forth by EFSA, an independent and prestigious authorization body.
"The safety of Amaferm, and all the BioZyme products, has always been the number one priority for our company, which has the motto, "care that comes full circle." We are pleased that our work has been recognized as such," Altenbokum said.
You can access the EFSA publication via the following link: https://doi.org/10.2903/j.efsa.2022.6983.
Amaferm is available through a distribution network around the globe. BioZyme, with world headquarters in Saint Joseph, Missouri, U.S.A., has been in business for 70 years.