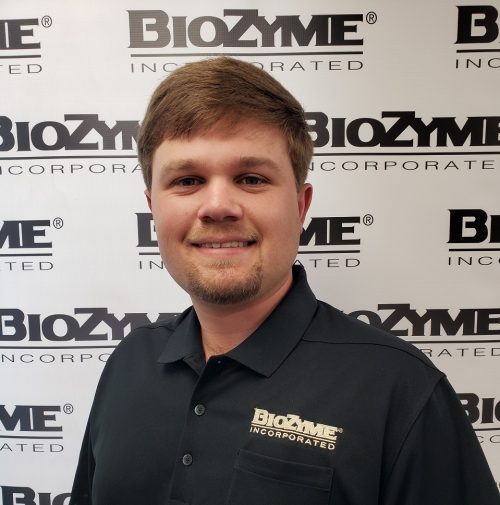 Hardy Goodman, Tifton, Georgia, has joined the BioZyme® Inc., Sales Team as the Area Sales Manager (ASM) for the states of Florida and Georgia. In his role, he will work with the dealer network to promote the BioZyme family of brands and educate dealers and customers about the importance of high-quality animal supplements.
Goodman was raised on his family's cow-calf operation in South Georgia and has always been passionate about the livestock industry. He attended Abraham Baldwin Agriculture College (ABAC) and earned his bachelor's degree in Diversified Agriculture. He most recently worked for Nutrien Ag.
"I have always wanted to be involved in sales, as I love talking to people and helping them with livestock. The ASM position opened up, and this was an opportunity to take me home to the people and the industry I am most passionate about," Goodman said.
In his role, he will travel the states of Florida and Georgia to work with BioZyme dealers, helping promote the family of brands that include AO-Biotics®, VitaFerm®, Gain Smart®, Vita Charge®, Sure Champ®, Vitalize®, DuraFerm® and Backyard Boost®. He will represent BioZyme at industry events within his sales territory and educate others about animal health, providing care that comes full circle.
"We are excited to add someone with Hardy's background and passion for the livestock industry to our TEAM. He is a great fit for the Southeast, and his enthusiasm and product knowledge will help our dealers in that region continue to succeed," said Bob Burkham, National Supplement Sales Manager.
Goodman continues to buy and sell show calves to young customers, and he enjoys helping those customers at shows as time allows. He also enjoys waterfowl hunting and spending time with his fiancé, Sarah.
To learn more about BioZyme and its family of brands, visit www.biozymeinc.com. ###