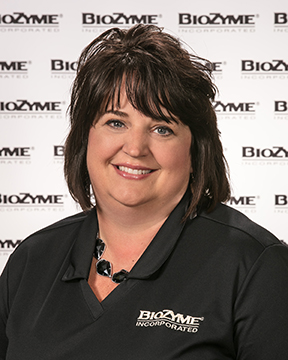 Lori Lawrence, Hebron, Ohio, has been promoted to Show & Small Livestock Business Development at BioZyme® Inc. She started with the company in 2018 as an Area Sales Manager.
In her role, she will work to develop relationships and promote the advantages of the BioZyme products to show customers and those who raise smaller species, including sheep, goats, hogs and backyard poultry. She will serve as an educational link between BioZyme and its customers.
"I am truly excited about Lori accepting this new role. Her personal interests, background and experiences that she has gained as a BioZyme ASM are all part of the reason that she will excel as a member of the Business Development Team. Lori is a big idea type of person, and she cares deeply about BioZyme and our customers. I have no doubt that great things are on the horizon for Backyard Boost, DuraFerm and Sure Champ," said Alan Lee, BioZyme Director of Domestic Business Development.
An Ohio native, Lawrence attended The Ohio State University. She has an extensive background in sales and marketing, having worked for Ohio Country Journal and Ohio Ag Network, where she sold advertising for many years. She also has experience selling real estate. Lawrence, and her husband, Kerry, raise cattle and Corgi dogs. They have two children, Drew and Erin.
"I'm genuinely excited for an opportunity to try new things, while still promoting the products I truly believe in. It's going to be fun to work with those in the show industry as well as sheep and goat producers who really want to make a difference in their operations with a quality nutrition program," Lawrence said.
For a list of complete list BioZyme sales and marketing staff, visit https://biozymeinc.com/our-staff/.