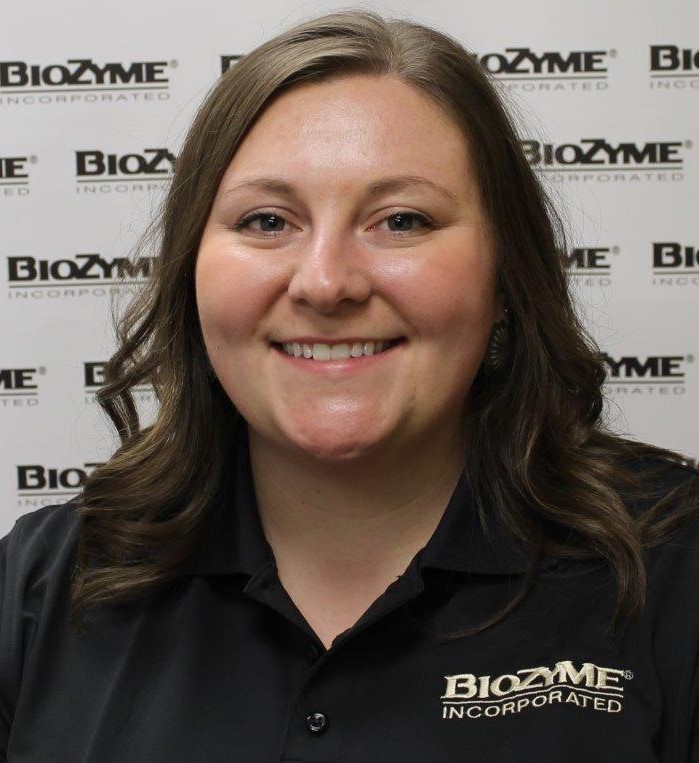 BioZyme® Inc., is pleased to announce the hiring of Samantha "Sam" Albers as the new Marketing Brand Manager – Small Livestock. She will focus her efforts on specifically marketing the brands of DuraFerm and Backyard Boost to sheep, goat and poultry producers nationwide.
"Sam has already hit the ground running! She has reached out on several projects she would like to get moving on and re-worked some content we already had going, which is amazing! She is going to take Backyard Boost and DuraFerm to new levels. Having someone focus on those brands specifically is new to the Marketing Team, and I think it is an exciting opportunity we have been missing out on," said Macall Compton, Senior Manager of Marketing Operations for BioZyme.
Albers brings a strategic and creative mindset to BioZyme, in addition to a well-rounded livestock background. She most recently worked at Hereford Publications Inc., for nearly four years where she collaborated with breeders to plan their marketing campaigns and sale books. She also coordinated the HPI social media accounts. She is a graduate of Kansas State University with a bachelor's degree in Agricultural Communications and Journalism with a minor in Animal Science. She also attended Allen County Community College and was on the livestock judging team there. She was active in 4-H and FFA, and she showed sheep, goats, cattle, pigs, dogs and rabbits.
The Marketing Brand Manager- Small Livestock is one of several new roles at BioZyme in an effort to focus more direct attention on each of the product lines that BioZyme offers. Albers will work closely with the sales and business development teams to ensure stronger brand recognition for both DuraFerm and Backyard Boost, two lines powered by Amaferm® to help producers reach more profit potential by raising healthier, more efficient animals.
"I'm so excited to take on this new opportunity at BioZyme, that will allow me to use my creativity and the skills I gained at the KSU Digital Marketing Boot Camp. Plus, I always enjoy learning new things and taking on new challenges," Albers said.
Albers, a Kansas native, works from her home office in Lawson, Missouri. She enjoys photography as a hobby. She also likes cooking and creating recipes, just another creative outlet for her.