The popularity of backyard chickens has been growing since the early 2000s; however, during the COVID-19 pandemic that status reached a record level with more people being confined at home, schools closing down, people looking for new hobbies and a genuine concern about their food supply decreasing. With the increased demand for backyard birds, BioZyme ® Inc. knew it was important to create products for these animals with the Amaferm ® advantage to demonstrate "care that comes full circle."
Backyard Boost® is a line of natural products that are crafted to support the health, wellbeing and productivity of poultry. Backyard Boost uses only the highest quality components and proprietary ingredients proven to support a flourishing flock. Initially, BioZyme is launching two products to help backyard poultry producers produce healthy, happy birds.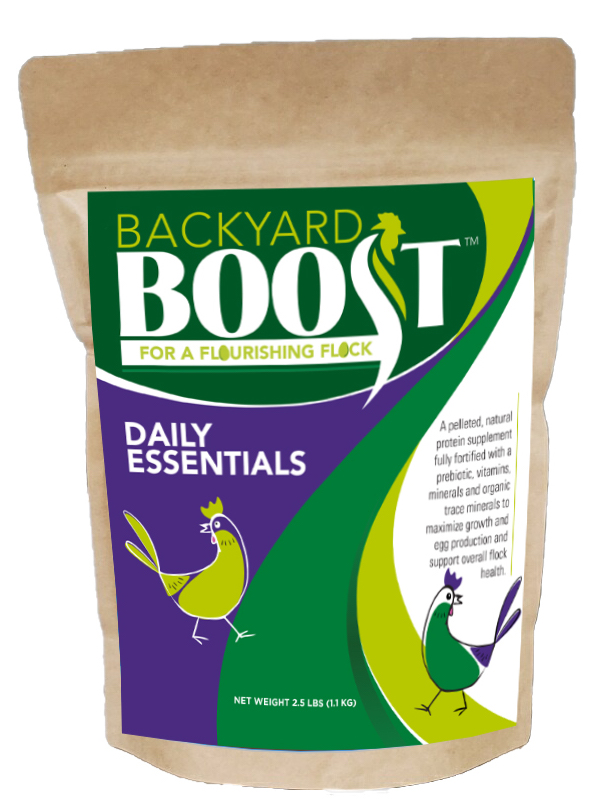 BACKYARD BOOST DAILY ESSENTIALS
Backyard Boost Daily Essentials is a pelleted, natural protein supplement fully fortified with the precision prebiotic Amaferm® , vitamins, minerals and organic trace minerals to maximize growth and egg production and support overall flock health. Amaferm is research-proven to increase digestion and absorption of nutrients to help maximize egg production and quality. In addition, Daily Essentials contains additional protein to support growth, feather quality and egg production and calcium and other nutrients for natural improvement of eggshell and yolk quality.
2.5 lb. or 10 lb. resealable bag.
Fed at a rate of 0.5 oz/chick/day.
For a 6-bird flock, 2.5 lbs. will last 2 weeks, and 10 lbs. will last 8 weeks.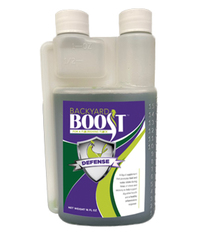 BACKYARD BOOST DEFENSE
Backyard Boost Defense is a liquid supplement that promotes feed and water intake during times of stress and recovery to help support digestive health and a healthy inflammatory response. With natural products like the precision-prebiotics Amaferm® that helps combat the negative effects of stress and gets your hens back to producing eggs faster, and MOS to trap and expel unwanted disease-causing pathogens, limiting their ability to do harm, Defense promotes feed and water intake. It also contains electrolytes to support proper hydration and works with antibiotics to improve health and recovery.
16 oz twin neck bottle with dosing chamber.
Added to water at the rate of 1 oz per gallon.
Mix daily to best freshness.
Designed for intermittent feeding during stress/recovery; can be fed at same time as Daily Essentials.
SHARE THESE BENEFITS WITH YOUR CUSTOMERS!
DAILY ESSENTIALS:
Improved health & performance
Supplementing calcium improves eggshell & yolk quality
Supplementing protein supports growth, feather quality
Increase egg production
Amaferm ensures that you're getting the most nutritional value from your feed through increased digestion & absorption
Healthier chickens
DEFENSE:
Recover from stress & sickness
Increase appetite
Decrease diarrhea incidences
Reduces peculiar behaviors like feather picking, egg eating, comb or vent pecking
Decreases panting and excessive tiredness
Supports the birds' immune systems
BE SURE YOUR CUSTOMERS KNOW WHEN AND HOW TO USE THESE NEW PRODUCTS:
DAILY ESSENTIALS:
Feed daily – either in the feeder or scattered around the pen
Intended as a supplement, not as a complete feed
DEFENSE:
Designed for intermittent feeding during times of stress, sickness and recovery
Mix in fresh water daily for best results
Maximizes the effectiveness of antibiotics