The job of stocker cattle is to turn cellulose into red meat, by putting on weight in the most cost effective way – gaining smart.
The Gain Smart Stocker Program provides a 1-2-3 punch to get calves eating and staying healthy. It includes 2 products to jump start appetite and a line of vitamin and mineral supplements with the Amaferm® advantage that promotes health and economically produces pounds by maximizing the natural energy and protein available in forage.
Feeding the Gain Smart program with the Amaferm advantage:
Makes the most of the cheapest feed available to any stocker operation: forage
Accelerates gain by stimulating the calf's rumen to function at top efficiency
Improves health by reducing the impact of stress, the largest sucker of immunity
Pays a 2 to 1 return through more gain, more health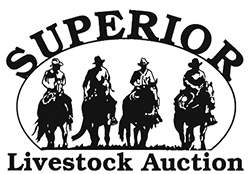 Exciting news!!
This program will easily draw stockers to your doorstep due to its effectiveness on gain and health. However, to add icing on the cake, we have launched an exclusive partnership with Superior Livestock Auction. Beginning October 2016, calves selling through Superior Auction will be able to add a value-added emblem (see below) if they have been fed Gain Smart for the 45 days prior to the sale or have been on a VitaFerm mineral for the 45 days prior to sale. This program will be heavily marketed to bring new business to your door.

Click Here for details on the Gain Smart Program. Call your ASM today to order Vita Charge Drench, Stress Tubs and the Gain Smart Mineral that is best for your customers.
BIOZYME/SUPERIOR REP PREFERRED PARTNER MINERAL PROGRAM
FYI :: We have developed a program for Superior Reps to be able to purchase VitaFerm and Gain Smart products at a discounted rate. Seeing is believing, and we hope to encourage any Superior Rep to try our products first-hand. If you have a relationship with a rep in your area, please make sure they are aware of this program! Contact your Area Sales Manager for assistance in filling out the required form for this program.