At BioZyme®, we track our market share in all the different markets where we are trying to grow. While the sales team would tell you that I use market share as a part of my slave driver approach to growth; it is actually not true. I use market share to motivate our entire team (you too) around the significant opportunity that still awaits us.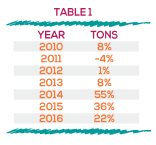 Our growth has been impressive and would not be possible without each of you. This growth makes it easy to ask how many more years is this really possible? The answer to that is objective and easy when you assess it from the market share perspective. At the end of 2016, our market share in the cow-calf sector was 1.5%. On a state-by-state basis it ranges from 10% in Indiana down to 0.2% in Texas. Just to give you some comparative perspective, McDonalds has 17% market share in the fast food industry, while the strongly misguided Chipotle has 2.2%.
Increasing market share is one of the most important objectives of business. The main advantage of using market share as a measure of business performance is that it is less dependent upon variables such as the state of the economy or changes in tax policy. Market share is said to be a key indicator of market competitiveness—that is, how well a firm is doing against its competitors. Similarly, within a firm's product line, market share trends for individual products are considered early indicators of future opportunities.
I am sure by now, you are thinking let's go grow market share. And because you are thinking that right now, I am hugging you. It is my job to keep the team focused on how to continue to grow that market share. It's actually not that easy, but there are a few things one should constantly consider:
Stay relevant through innovation. One great way to gain market share is to spot new trends ahead of competitors. Listen carefully when you're chatting with friends, watching the news or listening to kids talk about what they like. There may be a change in the wind your business can jump on.
Respond to customers – fast. Remember when leaving a voicemail recording that said, "I'll get back to you within 24 hours" seemed responsive? Not anymore. In this age of real-time, shoppers are increasingly loyal to the company that can fix their problem right now. Check out how fast your competitors respond, and then be faster; customers will take notice.
Keep an open channel for customer ideas. One of those ideas might be your next hit product. So, let's hear from all of you. What should we be considering as an add-on to our product line up??
Snap up competitors. Sometimes the easiest way to get more customers is to simply buy them. Watch for competitors that might be up for sale and purchase them or their customer lists.
Let's go get that market share – our BioZyme goal is to get to 2.5% in the next 2 years. WE CAN DO THIS!!