In early 2000 I was running a technology company that, by its nature, was constantly changing.  While that was not hard on me, I noticed that it was hard on many of the folks on my team. However, as the leader I had to figure out what to do since we had to constantly change to stay relevant. I read book after book on how to lead change. One of my favorites started with this sentence. People hate change. That's pretty blunt, but I have found it to be quite true. Based on this reality, I find the below graphic quite fascinating.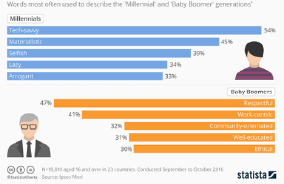 It's full of change. Does it reflect smart change or stupid change? I am going to leave the millennial discussion for another month and ask you to describe your business three years ago in five words and then describe it in five words today. Do these words reflect smart change or stupid change? Do you need to change some things up?
Change isn't always bad, and calculated change could be the answer to growth. But HOW? And WHEN? The decision to change course can happen at any time, for any reason — even if it's just a gut feeling that it's best for your company. But if you're on the fence about it, these four red flags could indicate you're better off making the switch.
Growth is slowing significantly. Every business goes through ups and downs in growth and profits. No matter what industry you're in, you're subject to the market cycle, and it's normal to experience slower periods throughout the year. But if your charts are on a continual downward trend — especially compared to others in your industry — it might be time to re-evaluate what you're doing.
The competitors you use to be able to ignore are starting to bother you. Old businesses that aren't changing with the times and newer startups don't normally seem like too much of a threat, as they may be too old school or small to compete with you. But that complacency can hurt you if you don't take those companies seriously.
Your customers aren't as happy as they once were. Keeping close tabs on your customers is a good way to gauge the health of your business. Primarily positive social media comments and customer feedback are indicators of happy customers. If these good vibes start to wane, you might need to make a change. Watch for signs that your product or service is becoming increasingly less significant to your customers, or that your customers no longer view your business as providing a high-value experience. Please note, you MUST know what your customers think about you. There are many tools to help with this and I am happy to help you pick one. Not knowing is just not an option; and don't ever think you just know, you must ask using an independent means to know.
There are Internal cues from your staff that things aren't great. These cues can tip you off to the need for a change as well. Are you having a hard time recruiting for the positions you believe you need to move your company forward? Is your sales team telling you that potential customers are no longer excited about what you do or sell? Are they talking about a new product or service that they wished you offered instead?"
Change takes time, and you're not necessarily going to be able to quit your old ways cold turkey. However, you should make sure the appropriate attention is given to the change, ideally through the use of a task force of a dedicated group of employees who can bring many thoughts to the table and can define the best solution automatically creating buy-in.